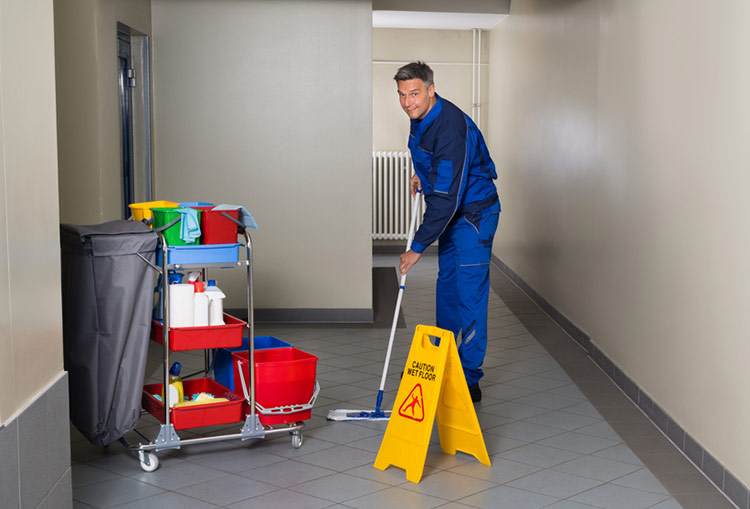 What job requires you to comply with OSHA and EPA regulations? Which professionals are responsible for providing people with safe and sanitary work environments? Who is often responsible for knowing and applying Covid-19 sanitation protocols? The answer to each of these questions is "a janitor"! Of course, if you are a janitor, you already knew this.
Janitors themselves often overlook the amount of knowledge they possess. That's a shame! Because who else are you going to write a compelling resume and cover letter for your next job with solid benefits? Right, let's fix that, shall we?
This post provides clean-cut tips for writing a janitorial cover letter, followed by a janitorial cover letter sample you can use to model your letter. Let's dig into it!
Include a Range of Keywords
This tip applies to your cover letter, resume, and your overall job search. Keep in mind that employers may refer to your position and duties using a variety of terms such as:
Janitor
Custodian
Building Cleaner
Porter
Attendant
Cleaning Technician
Those are just job titles! Refer to the job listing to find other keywords that will help your cover letter stand out. These might include, carpet cleaning, floor scrubbers, or inventory management. If the job listing mentions education or years of experience, you should consider those to be keywords as well.
Once you found those key terms, transfer them to your cover letter and resume when you describe your cleaning and housekeeping work experience. 
ADVICE FROM OUR EXPERT
---
It's important to assess which of your skills, experience, or achievements best position you for success within your target role. When applying for janitorial positions, enhance your cover letter by demonstrating why you're qualified for the position while also incorporating keywords from the job description.

Claire Webber
Career Consultant, CPCC, CPRW
Emphasize Safety and Sanitation
Two of the key elements of your job are maintaining a sanitary environment and working safely. Do some research to be sure you understand the sanitation and cleanliness required for the position. For example, you'll need to be exceptionally cautious if you are working with cleaning chemicals where children may be playing. The sanitation protocols in the hospital are going to be much more stringent than in an office building. Of course, you should indicate that you understand and follow Covid-19 cleaning guidelines.
When it comes to safety your responsibilities are twofold. First, you have to work in a way that the sure you do not create unsafe conditions, such as wet floors. In addition to this, janitors are often the first people who are expected to notice and remedy unsafe conditions such as spills.
Mention Additional Valuable Skills
If you have some advanced skills, you should include those in your cover letter. For example, janitors are often part of the maintenance team. If you are capable of using hand tools and performing small repairs potential employers will see that you can be easily cross-trained. The same is true if you are capable of performing more specialized cleaning duties such as stripping and waxing floors.
Don't forget to list complementary skills as well. If you are experienced with managing stockroom supplies, using computers, or supervising others you may be more likely to land an interview.
Your Certifications Could Get You Hired
Have you completed specialized training through OSHA or the EPA? If you work in food service, perhaps you have taken your certification course. Depending on where you live, there may also be other licenses or certifications that you are required to have. If you have any of these, don't hesitate to list them in your cover letter.
Remember, that it likely costs your employer to ensure their employees have these credentials. By walking in the door with them, you save them both time and money.
Janitorial Cover Letter Sample in .docx Format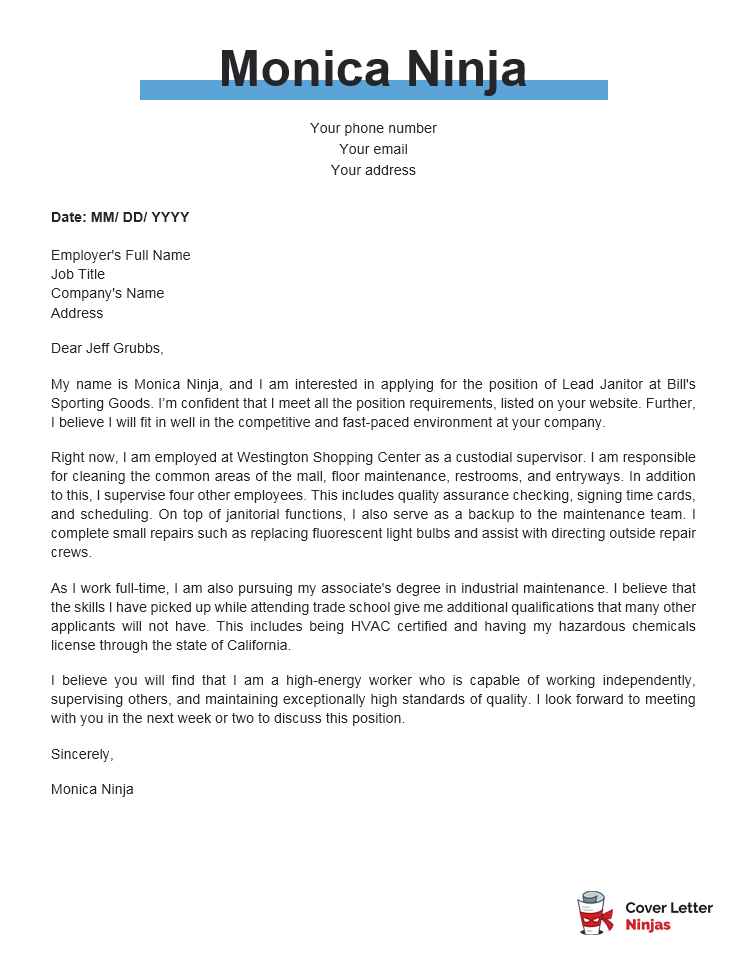 Download example (Word version)
Janitorial Cover Letter Example – Text Format
Dear Jeff Grubbs,
My name is Monica Ninja, and I am interested in applying for the position of Lead Janitor at Bill's Sporting Goods. I'm confident that I meet all the position requirements, listed on your website. Further, I believe I will fit in well in the competitive and fast-paced environment at your company.
Right now, I am employed at Westington Shopping Center as a custodial supervisor. I am responsible for cleaning the common areas of the mall, floor maintenance, restrooms, and entryways. In addition to this, I supervise four other employees. This includes quality assurance checking, signing time cards, and scheduling. On top of janitorial functions, I also serve as a backup to the maintenance team. I complete small repairs such as replacing fluorescent light bulbs and assist with directing outside repair crews.
As I work full-time, I am also pursuing my associate's degree in industrial maintenance. I believe that the skills I have picked up while attending trade school give me additional qualifications that many other applicants will not have. This includes being HVAC certified and having my hazardous chemicals license through the state of California.
I believe you will find that I am a high-energy worker who is capable of working independently, supervising others, and maintaining exceptionally high standards of quality. I look forward to meeting with you in the next week or two to discuss this position.
Sincerely,
Monica Ninja
Final Tip: Show Your Personality
You are a dedicated employee who works hard and does the job right the first time. By letting your personality shine through, you can show that you will fit into the work environment, and are a team player!