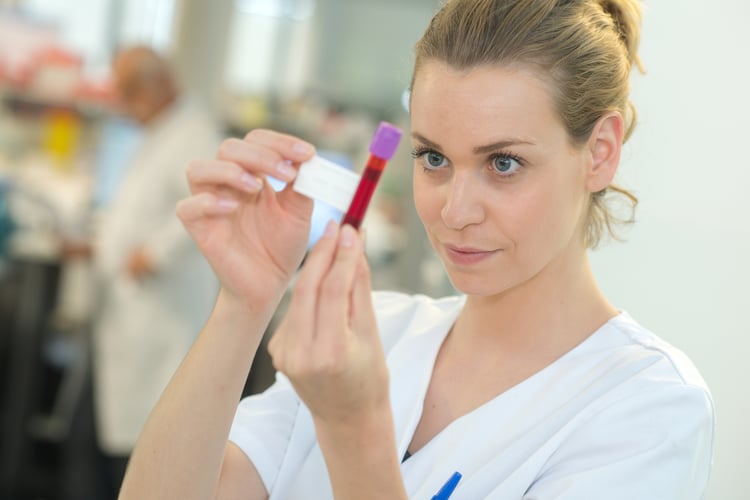 A phlebotomist provides a valuable service for medical labs, hospitals, and doctor's offices. They must work safely and accurately in order to ensure the tests that are run over the samples they collect are valid. This is a rewarding career for someone who is detail-oriented and interested in healthcare.
Phlebotomy also sets you up for a good career progression path to adjacent jobs — from nursing and physician assisting to more advanced medical lab tech positions.
However, there is also quite a bit of competition for phlebotomy jobs, especially entry-level ones. To make a strong case for hiring you, we propose you check our phlebotomist cover letter example below. Then, follow the extra writing tips to write a similar letter!
Cover Letter Example For Phlebotomist in Word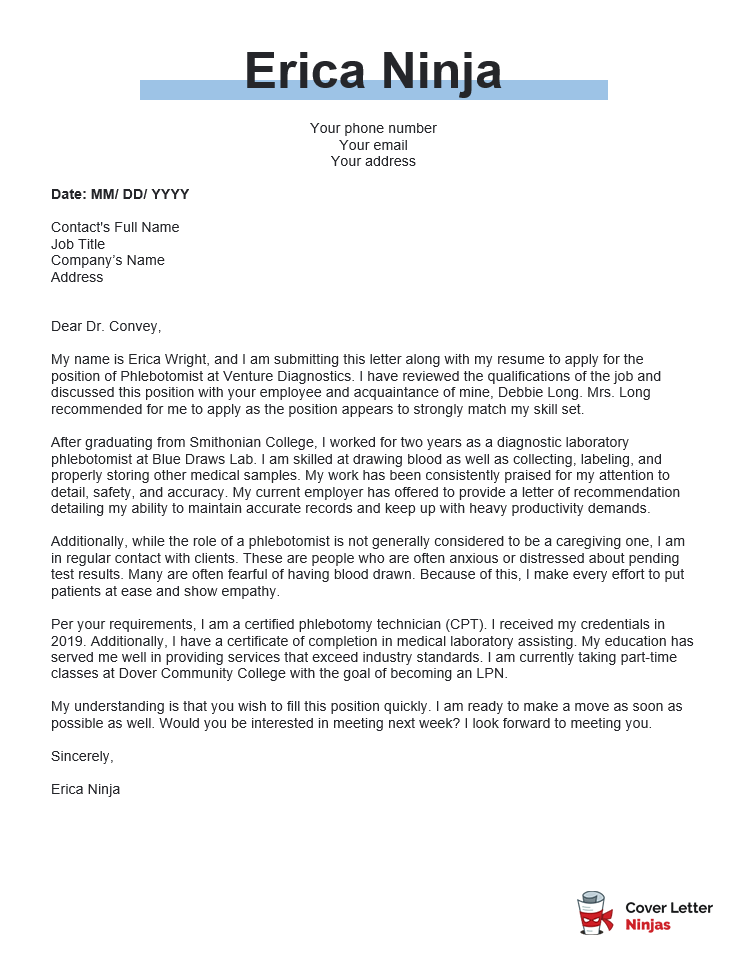 Sample Cover Letter For Phlebotomist – Text Format
Dear Dr. Convey,
My name is Erica Ninja, and I am submitting this letter along with my resume to apply for the position of Phlebotomist at Venture Diagnostics. I have reviewed the qualifications of the job and discussed this position with your employee and acquaintance of mine, Debbie Long. Mrs. Long recommended for me to apply as the position appears to strongly match my skill set.
After graduating from Smithonian College, I worked for two years as a diagnostic laboratory phlebotomist at Blue Draws Lab. I am skilled at drawing blood as well as collecting, labeling, and properly storing other medical samples. My work has been consistently praised for my attention to detail, safety, and accuracy. My current employer has offered to provide a letter of recommendation detailing my ability to maintain accurate records and keep up with heavy productivity demands.
Additionally, while the role of a phlebotomist is not generally considered to be a caregiving one, I am in regular contact with clients. These are people who are often anxious or distressed about pending test results. Many are often fearful of having blood drawn. Because of this, I make every effort to put patients at ease and show empathy.
Per your requirements, I am a certified phlebotomy technician (CPT). I received my credentials in 2019. Additionally, I have a certificate of completion in medical laboratory assisting. My education has served me well in providing services that exceed industry standards. I am currently taking part-time classes at Dover Community College with the goal of becoming an LPN.
My understanding is that you wish to fill this position quickly. I am ready to make a move as soon as possible as well. Would you be interested in meeting next week? I look forward to meeting you.
Sincerely,
Erica Ninja
How to Write a Phlebotomist Cover Letter
The purpose of your cover letter is to act as a 'teaser' to your resume. You should highlight some of your most marketable skills and areas of expertise in phlebotomy. Then personalize the narrative to the job description to position yourself as a 'strong fit'. The follow-up tips should help you accomplish just that!
Find a Contact Person
Avoid addressing your cover letter to "whom it may concern" or "department head". These generic salutations are impersonal. In most cases, a website search should help you find a real person's name. Or you can look up the organization on LinkedIn. You can also contact HR by phone to ask them for a name. Most will appreciate that you took those extra steps.
Make a Connection
Do you and the hiring manager have a mutual connection on LinkedIn? Did someone from the company encourage you to apply for the job? If so, be sure to mention this in your cover letter. When people know they have a connection to somebody, that creates a sense of familiarity. It doesn't guarantee you will land the job, but it can make you look more favorable.
Show a Range of Skills
Yes, you should be able to draw blood and follow safety protocols in the lab. However, you need other skills as well. A good phlebotomist has solid communication skills, emotional intelligence, and commitment to good patient care. Showcase these traits in your cover letter along with your technical skills.
Close The Deal!
What does this mean? It means that you should show confidence in your qualifications and abilities. Assume that the next step is inevitable. It's not "if" they want to schedule an interview. It's "when". Get the hiring manager thinking about the next steps. It's like the old salesperson's adage, "Always Be Closing!"
Final Tip: Follow The Instructions
Phlebotomy is a position in the healthcare field that involves handling laboratory samples. There aren't too many jobs that require more accuracy and attentiveness than this. The job comes with high standards and expectations. Show that you are capable of handling that level of responsibility by doing one thing.
Follow the instructions. If the company says to upload your resume and cover letter as a PDF, do that. If they say to email it, then that is how you should handle it. Also, be aware that many companies will add unique instructions simply to see if you are paying attention to details. Read any job listing carefully.