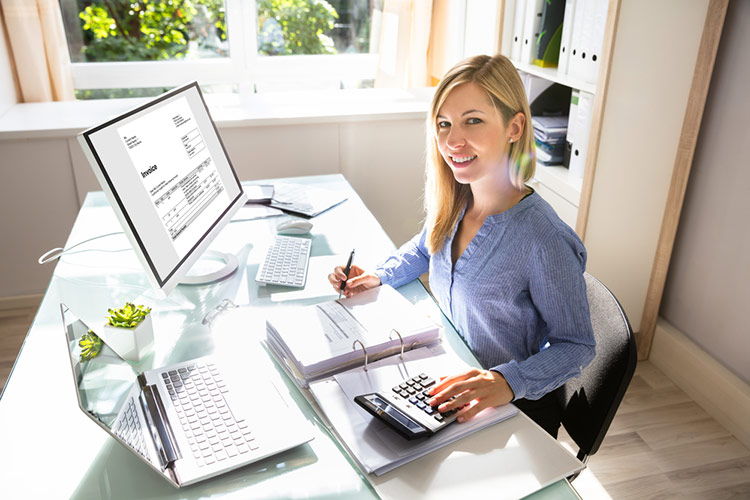 Every business spends and receives money. That may seem simple, but in reality, it's quite complex. The incoming money originates from a variety of sources and must be tracked separately for accounting purposes. The outgoing money works the same way. The bookkeeper is the heroic person who manages all of this.
If you are organized, analytical, and love numbers you are the perfect fit. Now it's time to land the job you need. To help you, we've included some great writing tips and a working bookkeeper cover letter sample.
ADVICE FROM OUR EXPERT
---
Bookkeepers often see patterns or trends and can make valuable suggestions because of their deep insight into the numbers. In your cover letter, cite examples where your recommendations either saved your employer money or helped reach financial goals.

Debi Douma-Herren
Senior Certified HR Professional & Career Coach
Detail The Size of The Companies You've Worked For and Industries
Accounting practices and regulations vary. What is required for a small contractor in terms of tax reporting is much different from a large manufacturing firm. There are also complexities for companies that have government contracts or handle medical billing. Finally, the size of the companies you've worked for also impacts the experience that you've had.
It's important that you include this information in your cover letter. By doing so, you demonstrate that not only do you have the experience but that your experience is relevant. Here's an example:
"I am currently employed by West Industrial, a 3.5 Billion dollar aviation components manufacturer. In addition to providing airplane parts to several commercial airlines, we also manage 15 state and federal contracts. In my position, I am responsible for managing both large commercial, and government accounts. One of my subordinates oversees SMB accounts under my supervision."
Provide Basic Details About Your Certifications
Are you a CPA? If so, you should definitely include this information in your cover letter. This will almost ensure you get a second look. If not, you should still add any licenses, memberships, or accreditations that you do have. These include software certifications, degrees and certificates of completion, and certifications from the American Institute of Professional Bookkeepers. Don't forget any local memberships as well. You might describe these as follows:
"I am an experienced bookkeeper who has worked hard to build a stellar reputation. My credentials include:
Quickbooks Certified
MS Office Specialist
AIPB Certification
Member in good standing of the Dalton County Association of Financial And Banking Professionals.
AAS in Accounting And Bookkeeping For Business"
Customize The Letter to The Specific Needs of The Company
There's no such thing as a one size fits all cover letter as you can tell from browsing our collection of cover letter examples. Each application should be accompanied by a letter that speaks to the needs of that company specifically. Of course, you'll mine much of the information you need to do this from the job listing, but don't stop there. Consider these other sources to learn as much as you can such as:
Glassdoor profiles and reviews
Company reports and press releases
Social media pages
News alerts
Learn as much as you can about the company culture, challenges they face, upcoming projects, and accomplishments. Then, adopt the tone and the content of your letter to show that you understand their needs, and will be a good fit for the organization.
Emphasize Communication Skills
A bookkeeper does more than record and tracks financial transactions. They must also communicate with people within the company, and outside as well. Bookkeepers are often responsible for reminding people to forward missing information, sign documents, handle outstanding account payables, etc. It takes diplomacy and good communication skills to gather that information while still maintaining good relationships. That's why bookkeepers must balance assertiveness and professionalism.
Bookkeeper Cover Letter Sample in .docx Format
Now for that example. Feel free to bookmark this page so that you can reference this letter when you need it.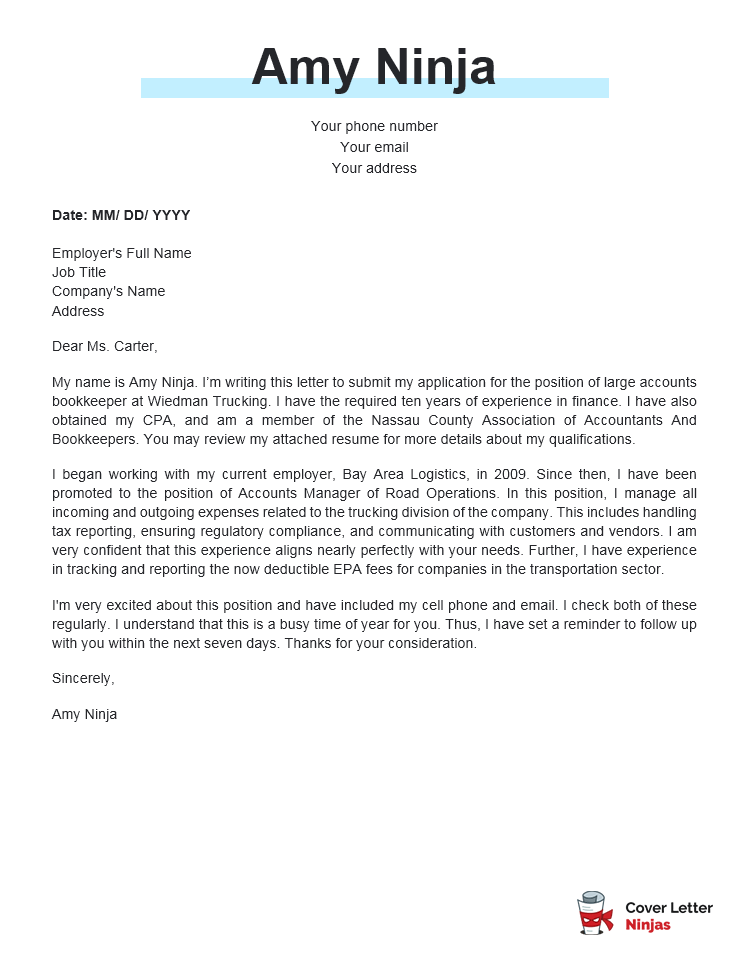 Download example (Word version)
Bookkeeper Cover Letter Example – Text Format
Dear Ms. Carter,
My name is Amy Ninja. I'm writing this letter to submit my application for the position of large accounts bookkeeper at Wiedman Trucking. I have the required ten years of experience in finance. I have also obtained my CPA, and am a member of the Nassau County Association of Accountants And Bookkeepers. You may review my attached resume for more details about my qualifications.
I began working with my current employer, Bay Area Logistics, in 2009. Since then, I have been promoted to the position of Accounts Manager of Road Operations. In this position, I manage all incoming and outgoing expenses related to the trucking division of the company. This includes handling tax reporting, ensuring regulatory compliance, and communicating with customers and vendors. I am very confident that this experience aligns nearly perfectly with your needs. Further, I have experience in tracking and reporting the now deductible EPA fees for companies in the transportation sector.
I'm very excited about this position and have included my cell phone and email. I check both of these regularly. I understand that this is a busy time of year for you. Thus, I have set a reminder to follow up with you within the next seven days. Thanks for your consideration.
Sincerely,
Amy Ninja
Final Tip: Close With a Call to Action
Notice that the example letter above didn't just end with a meek, 'hope to hear from you soon.' Instead, the writer took the bull by the horns and showed they were confident the reader was going to be interested in them. Always close your cover letter by assuming the answer is yes. Make it easy for them to follow up, and indicate that you will do the same.