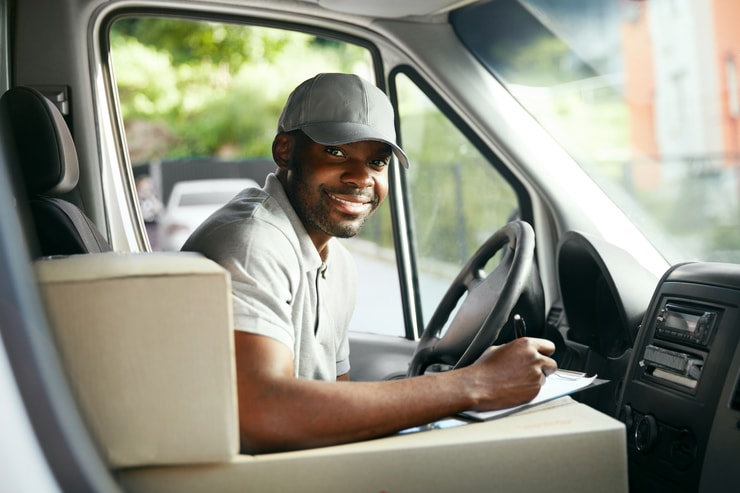 Companies have never stopped hiring delivery drivers. But now the job market is as hot as ever. With the rising volumes of e-commerce deliveries, the US last-mile logistics is set to hit $424 billion by 2030. This means more delivery drivers will be needed too.
Until 2030, the demand for truck and delivery drivers is expected to grow by 12% annually — faster than among other occupations. A booming market makes the perfect opportunity for you to land an awesome new job and some good pay.
The only downside is that there is plenty of competition out there for the best-paid positions. You have to really impress the hiring manager. We are happy to help with that. Take a few moments to review our cover letter for delivery driver applications. Then, follow the writing tips we've provided to come up with your own version.
Cover Letter Sample For Delivery Driver – Word Format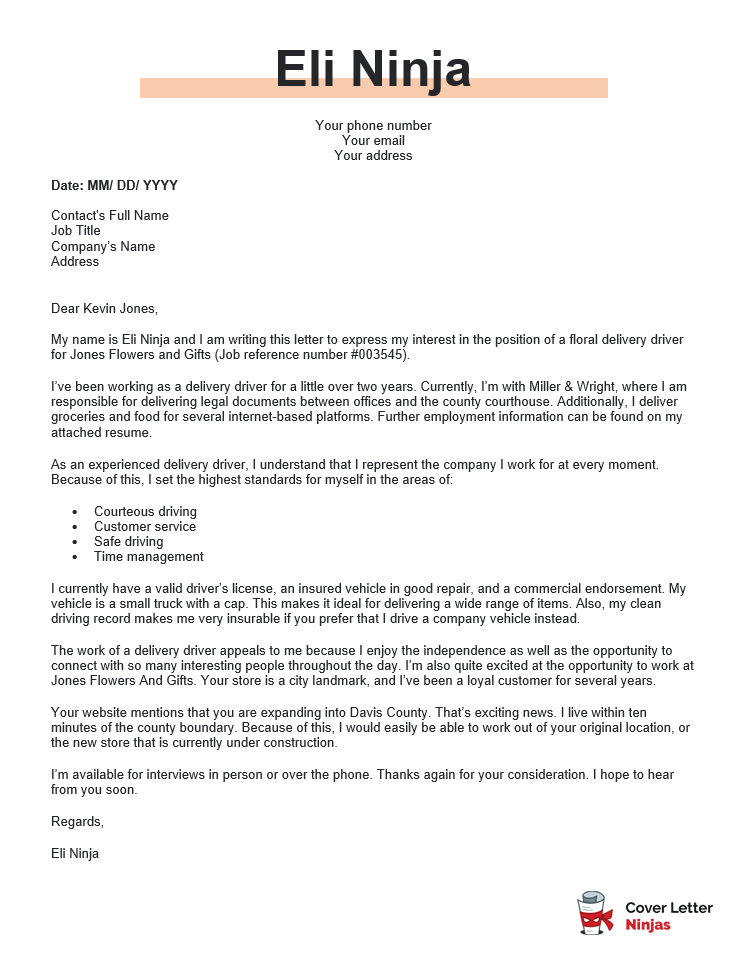 Cover Letter Example For Delivery Driver – Text Format
Dear Kevin Jones,
My name is Eli Ninja and I am writing this letter to express my interest in the position of a floral delivery driver for Jones Flowers and Gifts (Job reference number #003545).
I've been working as a delivery driver for a little over two years. Currently, I'm with Miller & Wright, where I am responsible for delivering legal documents between offices and the county courthouse. Additionally, I deliver groceries and food for several internet-based platforms. Further employment information can be found on my attached resume.
As an experienced delivery driver, I understand that I represent the company I work for at every moment. Because of this, I set the highest standards for myself in the areas of:
Courteous driving
Customer service
Safe driving
Time management
I currently have a valid driver's license, an insured vehicle in good repair, and a commercial endorsement. My vehicle is a small truck with a cap. This makes it ideal for delivering a wide range of items. Also, my clean driving record makes me very insurable if you prefer that I drive a company vehicle instead.
The work of a delivery driver appeals to me because I enjoy the independence as well as the opportunity to connect with so many interesting people throughout the day. I'm also quite excited at the opportunity to work at Jones Flowers And Gifts. Your store is a city landmark, and I've been a loyal customer for several years.
Your website mentions that you are expanding into Davis County. That's exciting news. I live within ten minutes of the county boundary. Because of this, I would easily be able to work out of your original location, or the new store that is currently under construction.
I'm available for interviews in person or over the phone. Thanks again for your consideration. I hope to hear from you soon.
Regards,
Eli Ninja
How to Write a Cover Letter for Delivery Driver Jobs
Delivery jobs have high turnover — and they also attract a lot of applicants. Therefore, you should keep your cover letter short and to the point. Provide a brief summary of your experiences, lay out your core skills, and briefly address your motivation for pursuing a driving position. If the job ad asks to submit an email cover letter, aim for an even shorter word count — 150-200 words max.
Here are a few more writing tips to supplement the example we have provided.
Cover The Necessities
Be sure to include all the necessary information when writing a cover letter. The type of deets you'd need to provide can differ between each job. Take the time to look at the job listing carefully, and then use that combined with your own experiences to fill in the blank.
For example, if the ad mentions that you need to have your own vehicle, mention its type/model. Likewise, if there's a requirement to use some special software (e.g. a route planning app or a driver behavior monitoring app), say that you are comfortable with technologies and always eager to learn new things.
Highlight Your Best Traits
When it comes to any cover letter you may write. It is your chance to boast about yourself and your accomplishments. If you have glowing ratings on a delivery platform, stellar job references from other employers, or a 98% on-time delivery rate, highlight them in your cover letter. Don't be shy about mentioning how good you are!
Do Your Research
Many companies have a set mission statement, and they tend to hire employees that share the same goals and vision. Before you submit your job application, try to look up this information. Learn what the company takes pride in, excels at, and aspires to. Then incorporate these bits in your cover letter. Taking this approach will help you to catch the employer's attention and increase your chances of being hired.
For example, if a fleet company wrote about transitioning to e-cars, you can write something like this:
"I've learned that DBL Logistics plans to run 100% electric fleets by 2035. I also believe that green transportation is the future of urban logistics – and feel enthusiastic about transitioning from a diesel car."
Final Tip: Use The Right Tone
You never want to be too casual in a job application. But neither do you want to sound too stilted, formal, or pompous. Hence, aim for a neutral "chatty" tone. Write your letter in the way you usually speak. Then clean up some colloquial words and clunky phrases before hitting send.