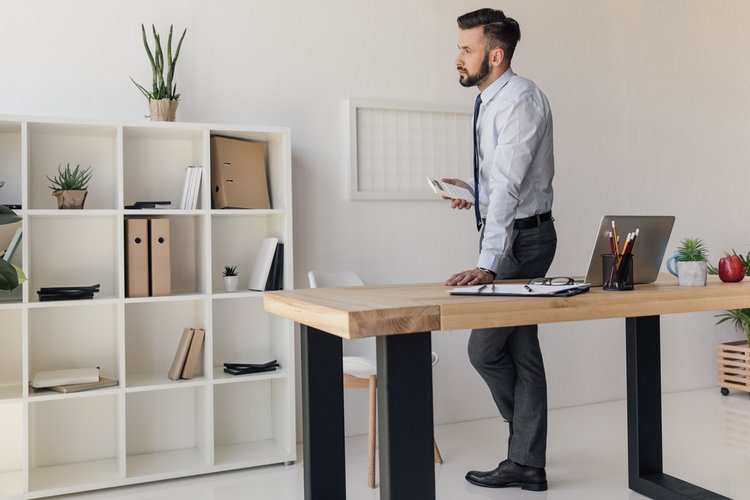 An "Accounts Payable Clerk" may not sound like the most exciting job title. But it's an important role most big organizations need. As an accounts payable employee your duties will involve dealing with all sorts of incoming business payments.
To do this job well, you must have a keen eye for details, love numbers, and understand the financial concerns of your employer. Also, you'll need some solid accounting knowledge, plus experience with various account software. But, hey, since you are reading this, let's assume you've got the skills it takes to succeed.
So, what's next? You have a great cover letter to introduce yourself! And here are your quick tips for writing one, followed by an accounts payable cover letter sample. Let's jump in!
Mention That You're a Cultural Fit
Hiring managers aren't just looking for competent employees. In many ways, that's the "easy" part of the hiring process. Most employers want to find workers who:
Fit into the company culture
Will get along well with their coworkers
Share the same values as the company does
In fact, when people quit their jobs, culture is the reason more often than other factors. That's why the HRs try to find the optimal fits early on.
So how do you show that you'll blend in easily with your new team and that the work environment works for you? The best method is to simply do some research. Check out the company's website and social media pages. Make note of what you see. For example, do the employees attend sporting events and happy hours together? Is it a business casual environment?
Next, take the information you learn. Use it to determine the tone and phrasing that you use in your letter. You can also mention a specific aspect of employee life that appeals to you. For example:
'I look forward to working in such a high-energy environment where collaborative efforts are encouraged.'
Cover The Must-Haves
If you read most job listings, it's pretty easy to discern the skills and experience that are mandatory, and those that are simply 'nice to have'.
Still, before you begin writing your cover letter, it's best to make a list of mandatory qualifications for the position. Then, incorporate all those keywords into your cover letter. Doing so is an easy way to personalize your cover letter, plus show that you are a good fit skills-wise. Specifically, spell out your general accounting experience and qualifications. Then "advertise" some complementary skills such as financial analysis, credit controlling, or bookkeeping.
Prove That You Will Add Value
The sad truth is that many companies are trending away from hiring accounts payable clerks. Some are choosing to rely on outside vendors for these services, or simply using out-of-the-box software to keep invoices and payments straight. This can make the job search process challenging, as you now must work to convince potential employers that you are a worthwhile investment.
Prove this by sharing examples of how you add value to the business. You can do this by sharing an example of finding an error that resulted in significant savings. Or you can mention how you can help improve vendor relationships.
ADVICE FROM OUR EXPERT
---
Professionals in accounting and finance are called upon to understand and mitigate the ramifications for unnecessary expenditures. Within this role, not only will you need to demonstrate a high acuity to detail, but you may be responsible for driving new cost saving measures. Consider providing historical evidence to back your experience in this area within your cover letter, or even outlining some prospective areas you could help your target organization improve upon.

Claire Webber
Career Consultant, CPCC, CPRW
Show That Your Skills Are Up to Date
Unfortunately, some people see the phrase 'accounts payable', and picture someone working with outdated ledgers. Today that's no longer the case. So be sure to highlight all your knowledge of accounting software, tools, and methodologies, as well as any recent certifications you've completed. So that you don't appear like a dinosaur!
Cover Letter Sample for an Accounts Payable Clerk in .docx Format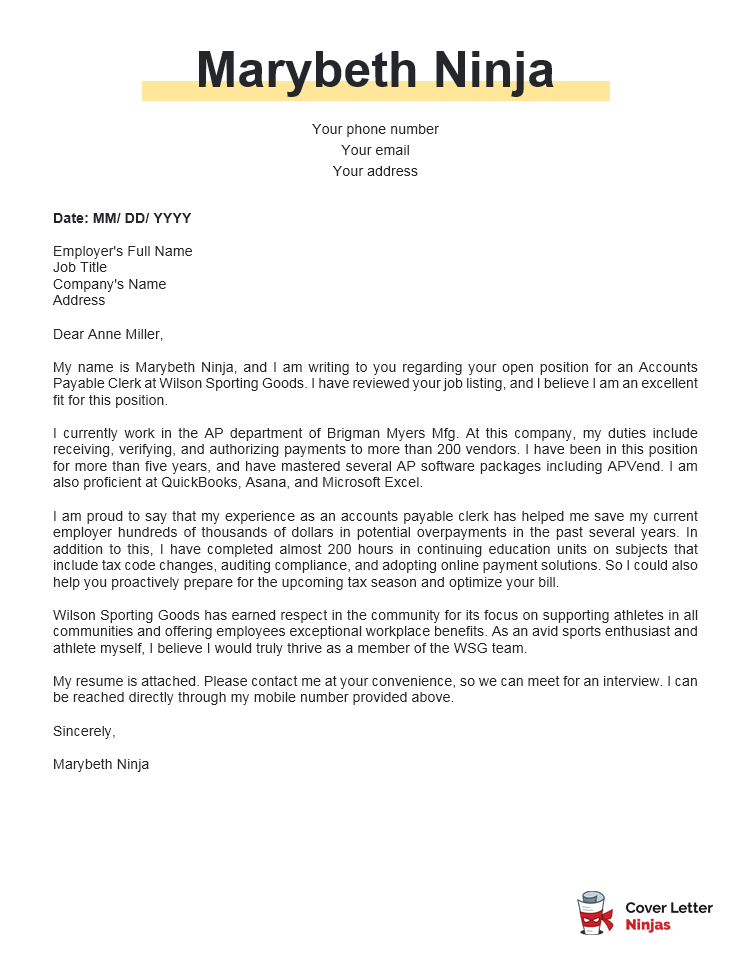 Download example (Word version)
Accounts Payable Cover Letter Example – Text Format
Dear Anne Miller,
My name is Marybeth Ninja, and I am writing to you regarding your open position for an Accounts Payable Clerk at Wilson Sporting Goods. I have reviewed your job listing, and I believe I am an excellent fit for this position.
I currently work in the AP department of Brigman Myers Mfg. At this company, my duties include receiving, verifying, and authorizing payments to more than 200 vendors. I have been in this position for more than five years, and have mastered several AP software packages including APVend. I am also proficient at QuickBooks, Asana, and Microsoft Excel.
I am proud to say that my experience as an accounts payable clerk has helped me save my current employer hundreds of thousands of dollars in potential overpayments in the past several years. In addition to this, I have completed almost 200 hours in continuing education units on subjects that include tax code changes, auditing compliance, and adopting online payment solutions. So I could also help you proactively prepare for the upcoming tax season and optimize your bill.
Wilson Sporting Goods has earned respect in the community for its focus on supporting athletes in all communities and offering employees exceptional workplace benefits. As an avid sports enthusiast and athlete myself, I believe I would truly thrive as a member of the WSG team.
My resume is attached. Please contact me at your convenience, so we can meet for an interview. I can be reached directly through my mobile number provided above.
Sincerely,
Marybeth Ninja
Final Tip: Provide a Preferred Contact Method
Help potential employers contact you without much of a hassle. Tell them the best method for reaching out to you, so that you avoid playing 'phone tag'! It's a small "courtesy" that makes a big difference!