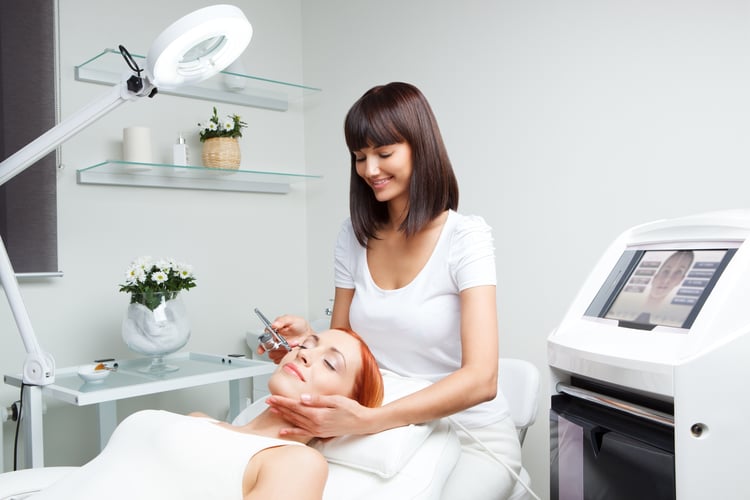 As a cosmetologist, you have a multitude of options when it comes to plotting your ideal career path. After all, you possess a wide range of highly profitable skills that many employers look at with their applicants. This means you can find employment with high-end salons, hotels, spa centers, or even consider opening an individual practice.
However, having the proper certifications, a pleasant personality, a great resume, and a cover letter will cement your chances even further for the career that you wish to achieve. In this post, we will be looking at a cosmetology cover letter example and going over tips on how to properly execute one.
Cosmetologist Cover Letter Sample in .docx Format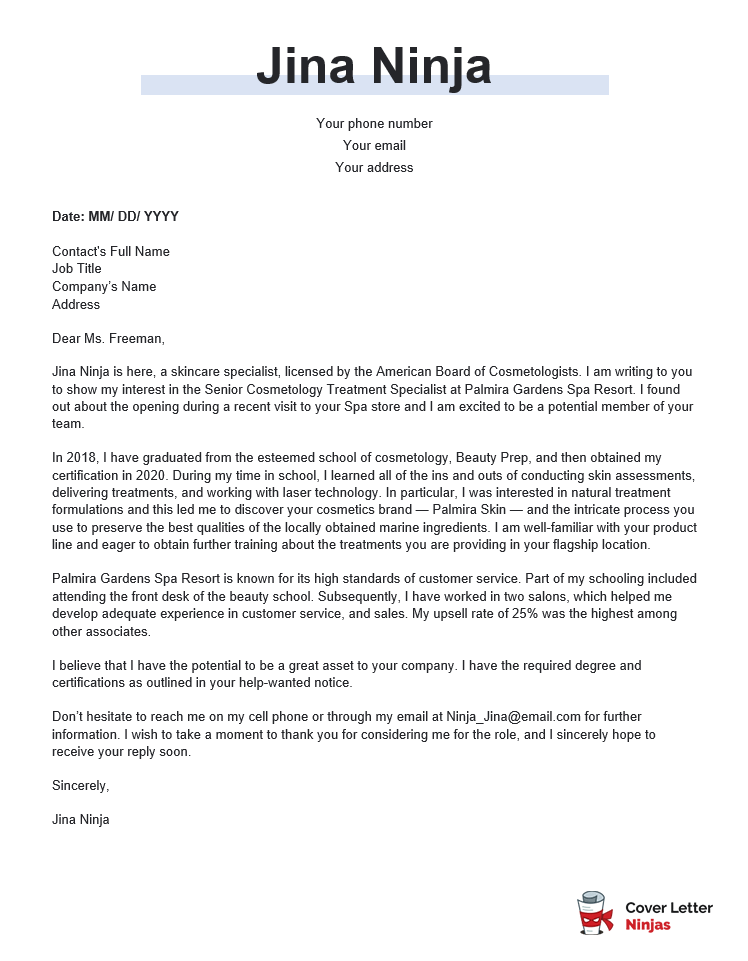 Download example (Word version)
Cosmetology Cover Letter Example – Text Format
Dear Ms. Freeman,
Jina Ninja is here, a skincare specialist, licensed by the American Board of Cosmetologists. I am writing to you to show my interest in the Senior Cosmetology Treatment Specialist at Palmira Gardens Spa Resort. I found out about the opening during a recent visit to your Spa store and I am excited to be a potential member of your team.
In 2018, I have graduated from the esteemed school of cosmetology, Beauty Prep, and then obtained my certification in 2020. During my time in school, I learned all of the ins and outs of conducting skin assessments, delivering treatments, and working with laser technology. In particular, I was interested in natural treatment formulations and this led me to discover your cosmetics brand — Palmira Skin — and the intricate process you use to preserve the best qualities of the locally obtained marine ingredients. I am well-familiar with your product line and eager to obtain further training about the treatments you are providing in your flagship location.
Palmira Gardens Spa Resort is known for its high standards of customer service. Part of my schooling included attending the front desk of the beauty school. Subsequently, I have worked in two salons, which helped me develop adequate experience in customer service, and sales. My upsell rate of 25% was the highest among other associates.
I believe that I have the potential to be a great asset to your company. I have the required degree and certifications as outlined in your help-wanted notice.
Don't hesitate to reach me on my cell phone or through my email at Ninja_Jina@email.com for further information. I wish to take a moment to thank you for considering me for the role, and I sincerely hope to receive your reply soon.
Sincerely,
Jina Ninja
More Relevant Cover Letters
Cosmetology Cover Letter Tips
The point of your letter is to provide extra information about your personality and people skills — something that is hard to communicate via a resume. Since cosmetologists spend a lot of time with clients, you'll need to showcase you have a pleasant demeanor, passion for the job, and top-notch communication skills.
Thus, it's best to keep your cosmetology cover letter centered around these. Then add several more polishing touches using our tips!
Add a Personal Touch
Always tailor your cover letter to the company you are applying to. After all, it would be awkward to praise a business for their skincare treatments, only to realize that they actually specialize in waxing, for instance. The same goes for mixing up the hiring manager's name or the company's name or location. Ensure that you spell both correctly.
ADVICE FROM OUR EXPERT
---
When applying for a cosmetologist position, make sure your cover letter covers your strong customer service skills. Share that you ensure strong customer loyalty by interpreting customers' needs successfully and recommend products that would ensure customer satisfaction.

Debi Douma-Herren
Senior Certified HR Professional & Career Coach
Talk Honestly About Your Training
Good training or lack of it can easily make or break your chances of getting hired for a prestigious cosmetology job. If you are only licensed to do basic hairstyles, such as bobs and braids, don't gloss that out by saying that you are an an-all-round hair specialist. It will quickly become evident that you aren't one. Even worse, some clients may complain which would likely lead to your early termination.
Thus, stay objective. Mention your abilities and levels of expertise. If you lack certain qualifications, mention that you are eager to obtain further training.
Highlight Your Achievements
What have you managed to do that sets you apart from the rest? Have you managed to get a specialization certificate in working on wiry hair? Or perhaps you graduated from the beauty school academy at the top of your class? By highlighting your achievements you show that you are a result-driven and proactive person — just the type of candidate many salon owners look for.
Curate Your Work Experiences
When it comes to cosmetology, there is no such thing as a useless experience. Perhaps you worked as the makeup artist in your schools' drama program? Or maybe you worked at a cosmetics store and on occasion helped customers apply or try on makeup? Experiences like this help to cement the fact that you are a multi-round professional and can work in different environments.

That being said, don't recite every work experience from your resume. Instead, curate the most relevant ones for the position you are after.
Final Tip: Remember That Your Cover Letter is The First Thing The Recruiter Sees
It is important to understand that your cover letter will likely be the first impression you make on the company. So it should be a professional one! Use a cover letter template if you are submitting a printed version of your cover letter. Make your resume in a similar design. Then hand both in a nice envelope to the hiring manager for extra oomph!