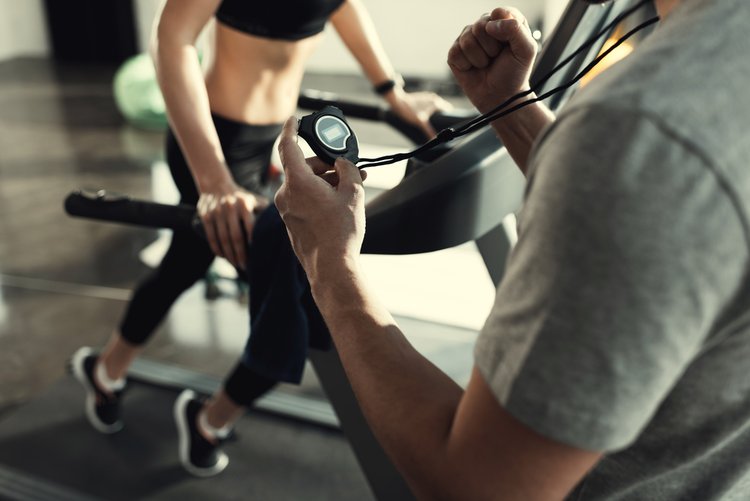 When it comes to health, losing weight is just one concern. More and more people are interested in ensuring they are getting the right nutrients, enjoying restful sleep, and otherwise invest in their personal wellness. As a health coach, you take a holistic approach to helping clients maintain better health.
This is a rewarding career, but you must be prepared to prove you are the best choice for the job. The best place to start is with a great cover letter for each application. Check out our bevy of writing tips first, with a sample health coach cover letter coming next!
Emphasize The Needs of The Client
People seek the services of a health coach for a variety of reasons. Some may have tried to manage their fitness and wellbeing and are desperately seeking help from a pro. Many have very specific goals or concerns and want only the best programs designed by someone who understands them.
ADVICE FROM OUR EXPERT
---
While the focus in cover letters are often to promote your results, a cover letter for a health coach position must be focused on the results your clients have achieved with your support. It is also helpful to point out that you always have the safety and wellbeing of your clients in mind.

Debi Douma-Herren
Senior Certified HR Professional & Career Coach
Before you begin writing a cover letter or resume, learn what you can about the client you'll be working with. Do what you can to understand what they need, and to dig into their concerns. Then, customize your letter to address those items specifically. Do this by leading your letter off with a relevant, value proposition. It might look something like this:
"I specialize in helping distance runners meet their performance goals, improve their recovery time, and enjoy better overall health during training down periods. You're currently working your back from a serious injury, and I'm confident I can design a health program to meet your needs."
Mention Specialties And Certifications
There's no single path to becoming a health coach. Some coaches are nutritionists who have also studied personal training. Others may hold four-year degrees in physiology, be retired athletes, or be former physical therapists. Likewise, many coaches focus on one or two specific specialties. Some coaches work with elite athletes, weight loss specialists, massage specialists, and holistic providers who incorporate spirituality into their practice.
In your cover letter, you must detail the specific work you do. Also mention any relevant degrees, endorsements, or certifications that you hold. Here's a brief example:
"I obtained my degree in Physical Therapy from the University of Iowa. Since then, I have earned a certificate in Holistic Wellness and Nutrition Planning from the Des Moines Institute of Healing. I specialize in helping women attain greater levels of overall wellness and increased energy."
Write About Some Great Client Results
This is a good time to share a meaningful example of the results you can help your clients achieve. Let a potential client envision your capabilities and you will increase your chances of moving ahead in the application process. Consider a simple, short example in story form:
"Marty J. came to me 50 pounds overweight, chronically tired, and feeling as if his diet was out of control. I spent several hours with him assessing his current eating choices, strength and endurance, and working to outline SMART health goals. Within 30 days, he had reached every benchmark we'd set. In six months, he was training for a triathlon."
Cover Letter Sample for Health Coach – .docx Format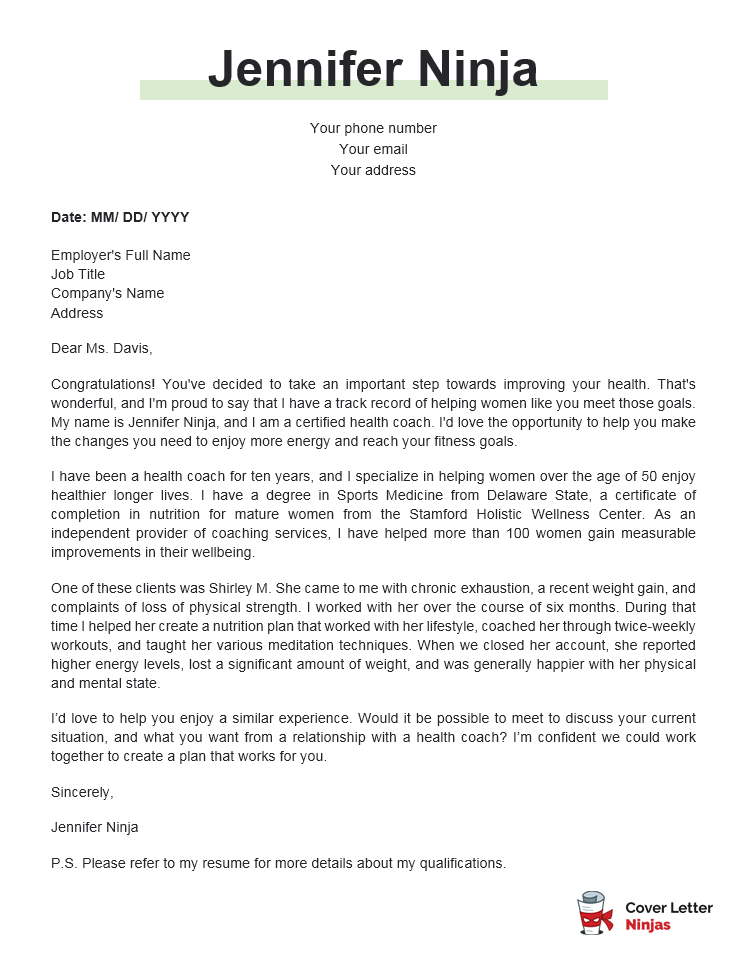 Download example (Word version)
Health Coach Cover Example – Text Format
Dear Ms. Davis,
Congratulations! You've decided to take an important step towards improving your health. That's wonderful, and I'm proud to say that I have a track record of helping women like you meet those goals. My name is Jennifer Ninja, and I am a certified health coach. I'd love the opportunity to help you make the changes you need to enjoy more energy and reach your fitness goals.
I have been a health coach for ten years, and I specialize in helping women over the age of 50 enjoy healthier longer lives. I have a degree in Sports Medicine from Delaware State, a certificate of completion in nutrition for mature women from the Stamford Holistic Wellness Center. As an independent provider of coaching services, I have helped more than 100 women gain measurable improvements in their wellbeing.
One of these clients was Shirley M. She came to me with chronic exhaustion, a recent weight gain, and complaints of loss of physical strength. I worked with her over the course of six months. During that time I helped her create a nutrition plan that worked with her lifestyle, coached her through twice-weekly workouts, and taught her various meditation techniques. When we closed her account, she reported higher energy levels, lost a significant amount of weight, and was generally happier with her physical and mental state.
I'd love to help you enjoy a similar experience. Would it be possible to meet to discuss your current situation, and what you want from a relationship with a health coach? I'm confident we could work together to create a plan that works for you.
Sincerely,
Jennifer Ninja
P.S. Please refer to my resume for more details about my qualifications.
Final Tip: Demonstrate How You "Fit In"
Many health coaches also work for corporations or health insurance companies. If you're after a full-time position, prove that you can be a great addition to the company's staff bench and share the same values as they do.
To do this, you'll need to read the job listing carefully and then peruse the company website. Pick out details regarding their mission, the health-related strategies they support, and the kind of customers they serve, and mirror those details in your cover letter.