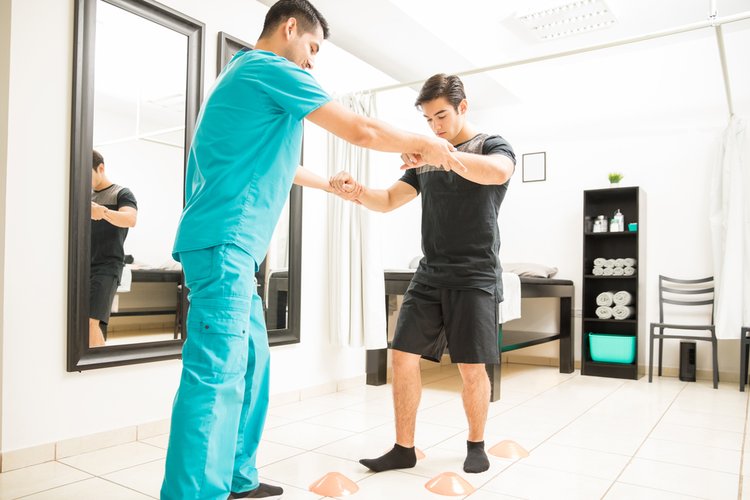 A skilled physical therapist can truly help people reclaim their lives. After all, you have the skills to help people regain motion and other functionality after an accident, injuries, or illness have robbed them of it. In addition to having a rewarding career, physical therapists earn a median salary of 89K per year and can easily earn over six figures if they choose to start a private practice.
Sounds enticing? Well, let's get your job search moving then! This post offers some essential tips for writing an excellent cover to pair with your resume. At the end of this piece, we'll also include a sample cover letter for a physical therapist.
ADVICE FROM OUR EXPERT
---
With any clinical position, both your experience and credentials are vital to obtaining a new role. Take great care to understand what your prospective employer is looking for in terms of background, education, and qualifications. Within the first two paragraphs of your cover letter, clearly reflect any pertinent education, credentials, and experience you bring to the table so it is not overlooked.

Claire Webber
Career Consultant, CPCC, CPRW
Determine Your Overall Goal for Writing a Cover Letter
Not every job posting will ask you to provide a cover letter. However, it's usually a good idea to include one in your application anyway. Why? Because a cover letter lets you introduce yourself to your potential employer.
Plus, you can also include information that may not fit on your resume. Most importantly, you should think of your cover letter as a tool for giving you a competitive advantage over other applicants.
However, before you begin writing, take a moment to figure out your angle. What is it that you want to communicate with the person who is in charge of hiring?
Here is an example. Imagine that you are applying for a job as a physical therapist at a Veterans Hospital. Maybe your goal is to show that you understand the unique needs of veterans who need physical therapy and that you are committed to respectful and dignified treatment. Once you have your goal, use it as a touchstone to make sure that your letter has focus.
Share The Right Success Story
You should absolutely talk about your successes in your cover letter. Just choose the examples you're going to share carefully. You might be tempted to write about some major success stories where you helped a patient learn to walk again. It's easy to see why you would choose such a victory to include in your letter. But don't rush to do so!
Instead, focus on emphasizing one or two examples that really show you have applied the skills that are mentioned in the job listing. Also, keep in mind that physical therapy clinics are looking for practitioners who can get meaningful, realistic results on a consistent basis, not one-time miracle stories.
Explain Your Motivation
Why do you want to work for this particular employer? That's something you should think about as you write your letter. It's definitely a question that the hiring manager will want to see answered.
So take a few moments to consider why you would choose this therapy clinic over another one. Maybe you are interested in working with a specific client base. You might also see a chance for career advancement or a career change. If you simply think you would fit in well with the company culture, it's fine to mention that as well.
It's also important that you talk about your reasons for becoming a physical therapist in general, especially if you've transitioned from an adjunct profession such as massage therapy or nursing. Let the reader know what motivated you to get into a field where you help people recover their ability to move and function.
Physical Therapist Cover Letter Sample in .docx Format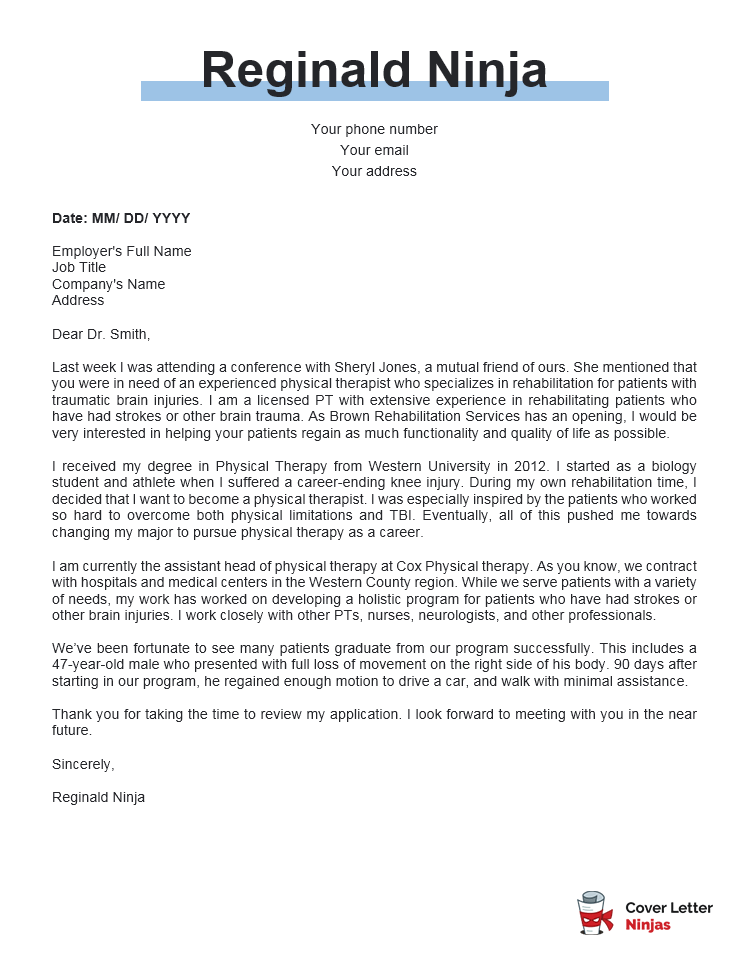 Download example (Word version)
Cover Letter Example For Physical Therapist – Text Format
Dear Dr. Smith,
Last week I was attending a conference with Sheryl Jones, a mutual friend of ours. She mentioned that you were in need of an experienced physical therapist who specializes in rehabilitation for patients with traumatic brain injuries. I am a licensed PT with extensive experience in rehabilitating patients who have had strokes or other brain trauma. As Brown Rehabilitation Services has an opening, I would be very interested in helping your patients regain as much functionality and quality of life as possible.
I received my degree in Physical Therapy from Western University in 2012. I started as a biology student and athlete when I suffered a career-ending knee injury. During my own rehabilitation time, I decided that I want to become a physical therapist. I was especially inspired by the patients who worked so hard to overcome both physical limitations and TBI. Eventually, all of this pushed me towards changing my major to pursue physical therapy as a career.
I am currently the assistant head of physical therapy at Cox Physical therapy. As you know, we contract with hospitals and medical centers in the Western County region. While we serve patients with a variety of needs, my work has worked on developing a holistic program for patients who have had strokes or other brain injuries. I work closely with other PTs, nurses, neurologists, and other professionals.
We've been fortunate to see many patients graduate from our program successfully. This includes a 47-year-old male who presented with full loss of movement on the right side of his body. 90 days after starting in our program, he regained enough motion to drive a car, and walk with minimal assistance.
Thank you for taking the time to review my application. I look forward to meeting with you in the near future.
Sincerely,
Reginald Ninja
Final Tip: Create a Personal Connection
You'll notice that our letter mentioned a mutual acquaintance. This is a great technique. It creates a sense of familiarity and could make the reader feel obligated to give the application just a bit more consideration. Remember that even the small things count.