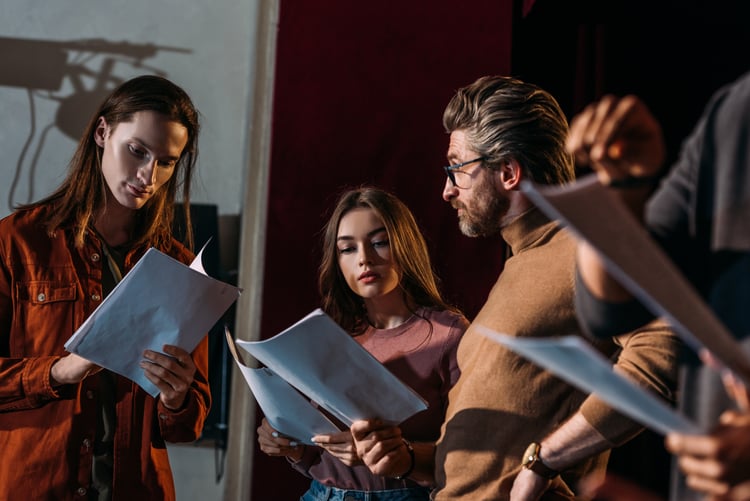 If you are a professional actor or another performer, you have heard of the mythical Backstage. This is a platform as well as a community that allows both entertainers and creators to find film, stage, television, production, and voiceover projects to work on.
You may view job listings from all over the world, and apply for work directly from the site. Backstage is a bit like the Indeed of entertainment as almost every major studio including Netflix, Nickelodeon, HBO, and Disney use it to find cast members.
If you apply for a job via Backstage, you'll have to include a cover letter along with other required materials. However, this isn't quite like a standard cover letter. Instead, you are limited to 500 characters, not the standard 500 words.
So, you have to get it right without wasting any space. This article should help with that. We have a Backstage cover letter sample for you to review. In addition to that, we've included some tips for writing that letter and using Backstage to pitch yourself as a performer or production professional.
Backstage Cover Letter Example
Here is a sample Backstage cover letter you can use as writing props. Please note that it is much shorter than other types of cover letters and also features some deets that are not really seen in other cover letters. This is largely due to the casting process.
This letter is written by a male actor seeking an audition for an upcoming situation comedy.
My name is Paul Ninja. I'm an actor and stand-up comedian with a range of comedic experience on stage (Parker's Club) and television (Utah ABC station). Stats are 5,10" 275, stocky, dad type, and balding. Great fit for goofy best friend, uncle, working-class dude, or dad. I also have episodic sitcom experience with Netflix. Please consider me for the role of Bucky Deavers in the upcoming production. I have no projects scheduled for the next 6 months and can audition at your convenience.
Backstage Cover Letter Writing Tips
Now for some tips on making the max out of that tiny word slot for expressing your interest in the upcoming gig. Here's how to pack a punch in your short backstage cover letter:
Get Right To The Point
Remember that there's no room or space here for lengthy introductions, expressing admiration for the company, or other "aspirational" content that you would probably include in the standard actor cover letter. Don't even waste time on a salutation. Instead, open with a brief introduction and move immediately to your qualifications.
ADVICE FROM OUR EXPERT
---
When writing a cover letter for backstage help, check all the dates help will be needed and assure the reader you are available on all of those dates. Plus, review any special skills they are looking for and highlight those in your cover letter.

Debi Douma-Herren
Senior Certified HR Professional & Career Coach
Always Include Your Availability
The casting notice will contain the dates and locations of the production, rehearsals, and auditions. These are generally not flexible, and will only change if the needs of the production company dictate they should. Thus, don't expect to be able to schedule any readings or auditions outside of the given times and dates.
Instead, state very clearly that you are going to be available within the required time frame. This will let the reader know that they can rely on you and call you in on short notice. For most productions, this is crucial. Unless you are an A-lister, your availability can really make or break your chances of being seen.
Less Is More
Remember that the 500 character limit is your maximum. You don't necessarily have to use all of that. Many actors have found that they have better look being even more concise. This is especially the case if you are going up for a role that is a fit for a wide range of 'types'.
Sometimes, something as simple as, 'My name is Jessica. I'm a 24-year-old actress and singer. I have musical theater experience. I'd like to be considered for this part.' is enough to get that callback for an episodic role or short part.
Busy producers and casting directors may appreciate your brevity.
Do Your Research
The Backstage website has community pages and forums where people like you discuss the application process, different production companies, and tips and tricks for success. Join these, and take part in the conversations. Reach out to people who have gone up for similar roles, and who have worked for the same production companies. Similarly, there are acting groups on Reddit and other social media pages, discussing the experience with Backstage.
Find out as much as you can about the director, casting professional, producer, and production company. If you can find others who have earned roles through them, seek out their advice and insights.
Final Tip: Show That You Are A Fit For The Role
Submitting an application for an acting role is a bit different than the process for most other jobs. You have to get the recipient to visualize you in that role. In many cases, they have a very detailed physical description in mind. Many performers choose to include these attributes in their cover letter to show that they truly 'fit the part'.
What if you don't have the physical attributes listed in the casting call? That doesn't necessarily exclude you. If that happens, make a convincing argument that you are still an excellent fit.