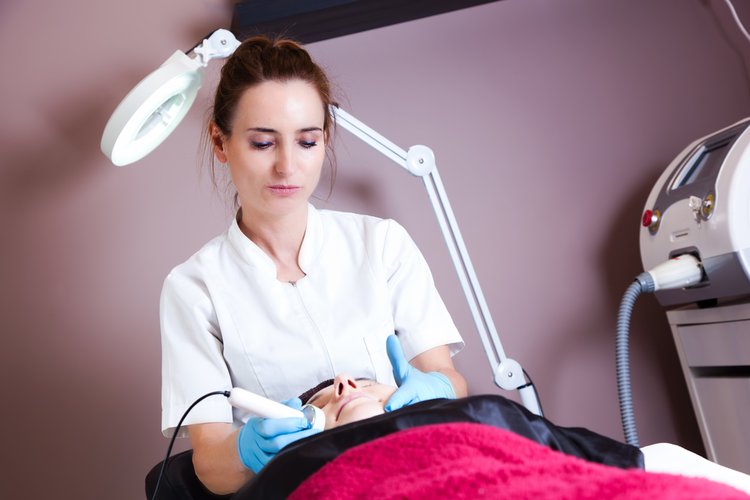 It's easy to see why people are attracted to careers in cosmetology. Estheticians and others can attend school for a reasonably short period (and at an affordable cost!). And then, they can land rather lucrative jobs.
But as always, you gotta watch out for the competition. New openings in popular salons get filled out fast. So to make your application stand out, you'll really need to hook the decision-maker in your cover letter and show that your skills and personality are a great match. Remember that you'll need to mesh well with the clients, and your potential coworkers. Your cover letter is the perfect tool for demonstrating that.
To get started, check out our helpful writing tips. Next, take a close look at our esthetician cover letter sample.
ADVICE FROM OUR EXPERT
---
Esthetician opportunities call for a clearly defined set of skills, including customer service, interpersonal skills, time management, communication, and the ability to translate client needs into services and products. Use your cover letter as a platform to convey these "soft skills" in addition to a few clearly defined accomplishments that would prove you invaluable to your prospective employer.

Claire Webber
Career Consultant, CPCC, CPRW
Tailor Your Letter to The Customer
Let's be honest: cosmetology is a business that is driven by the clientele. Before you begin working on your cover letter, determine who's the target audience of the particular salon. For example, are you applying for a job at a chain spa that targets middle-income clients? Are you seeking a job at an upscale establishment with customers who expect high-end pampering?
Take some time to learn about each potential employer. Then, use keywords that show you understand the customer's needs.
Never Say 'I'm Writing to Apply'
Of course, you are writing to apply! Otherwise, you wouldn't be writing at all. That's a dull opener. Leave it off, and dive right into something a little more catchy. Try some of these methods for opening up your cover letter:
Open up with an impressive fact about your cosmetology skills and experience.
Share one or two sentences that explain your motivation for becoming an esthetician.
Write a sentence that matches your experience with their key requirement.
Show your enthusiasm for the company.
Write about an award or accomplishment.
Bring up your impecable customer service skills.
Mention a friend or colleague in common.
One very effective way to open your cover letter is to add a statement of belief that is relevant to the job. Here's an example:
'I believe that everyone deserves healthy skin and the positive self-esteem that goes along with having it. I'm proud to have the skills and experience to help my clients obtain that.'
Mix Font and Design Carefully
Yes, you want your cover letter to stand out. So you decide to show a bit of creativity. At the same time, professionalism is really important. How do you balance the two?
One thing you can do is carefully select a cover letter template that gives you the vibe you want. Ensure that your choice has a quality header, uses a professional-looking font, and offers great readability for the hiring manager. 
Of course, you should also match your cover letter design to your resume. Even if you don't use a resume template, you should use the same font size and color. Keep your margins the same as well.
Cover Letter Sample for an Esthetician in .docx Format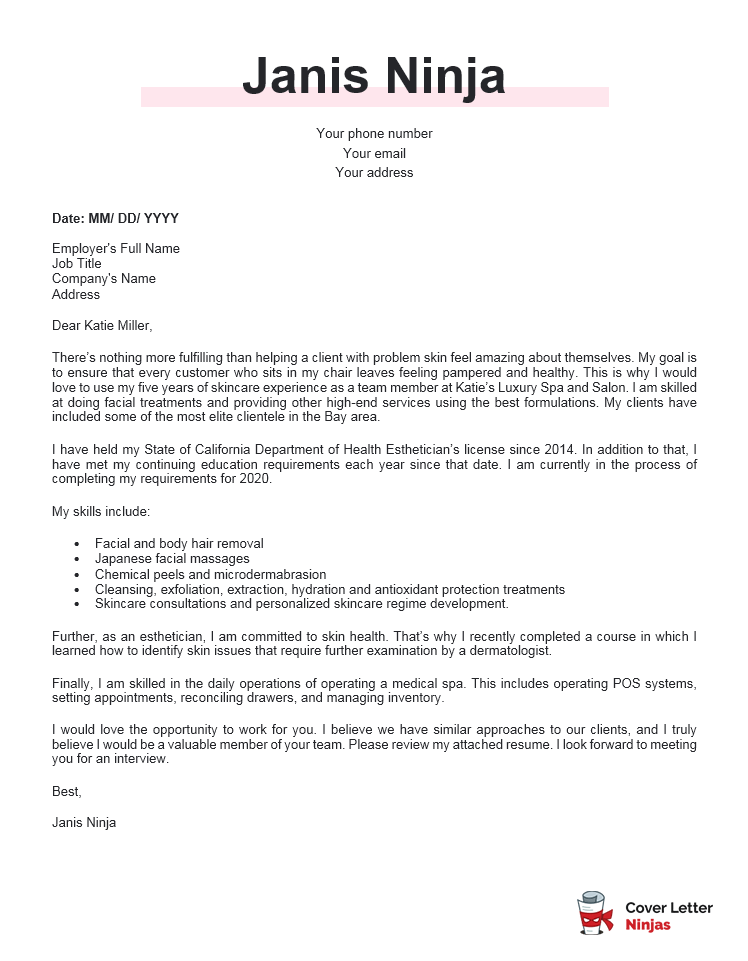 Download example (Word version)
Esthetician Cover Letter Example – Text Format
Dear Katie Miller,
There's nothing more fulfilling than helping a client with problem skin feel amazing about themselves. My goal is to ensure that every customer who sits in my chair leaves feeling pampered and healthy. This is why I would love to use my five years of skincare experience as a team member at Katie's Luxury Spa and Salon. I am skilled at doing facial treatments and providing other high-end services using the best formulations. My clients have included some of the most elite clientele in the Bay area.
I have held my State of California Department of Health Esthetician's license since 2014. In addition to that, I have met my continuing education requirements each year since that date. I am currently in the process of completing my requirements for 2020.
My skills include:
Facial and body hair removal
Japanese facial massages
Chemical peels and microdermabrasion
Cleansing, exfoliation, extraction, hydration and antioxidant protection treatments
Skincare consultations and personalized skincare regime development.
Further, as an esthetician, I am committed to skin health. That's why I recently completed a course in which I learned how to identify skin issues that require further examination by a dermatologist.
Finally, I am skilled in the daily operations of operating a medical spa. This includes operating POS systems, setting appointments, reconciling drawers, and managing inventory.
I would love the opportunity to work for you. I believe we have similar approaches to our clients, and I truly believe I would be a valuable member of your team. Please review my attached resume. I look forward to meeting you for an interview.
Best,
Janis Ninja
Final Tip: Don't Forget Those Checklist Items!
Because an esthetician is a licensed position, you need to meet certain qualifications. These include having completed an approved training program, holding a license in good standing, and completing required continuing education classes. Hiring managers will certainly look into these items as they decide who will be called back for an interview. Thus, give your credentials a prominent placement in your cover letter.