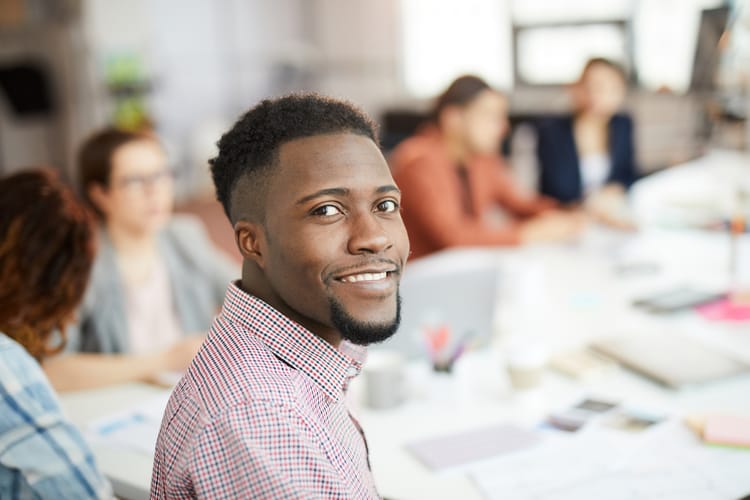 If you plan to work in the field of finance, you need to put your theoretical skills to practice as soon as possible. Working with actual accounts and financial models can tremendously accelerate your levels of competency — and shape you into a highly-attractive hire.
To land your internship in finance, start reaching out to investment banking firms, accountancies, banks, credit unions, and other financial institutions. Just be aware that competition for these can be intense. A number of US banks recently bumped intern pay rates by 37%. Citi offers interns an attractive $8,695 a month, while Goldman Sachs provides $8,333 in remuneration.
Clearly, a lot of talented people would want to compete for these spots. Goldman Sachs, for example, accepted only 1.5% of internship applications last year.
To stand a chance, you will need a great resume and letters of recommendation. An impressive academic track record is a given too. Last, but not least comes your cover letter. To help you out here we offer a sample cover letter for a finance internship and some helpful writing tips.
Finance Internship Cover Letter Sample – Word Format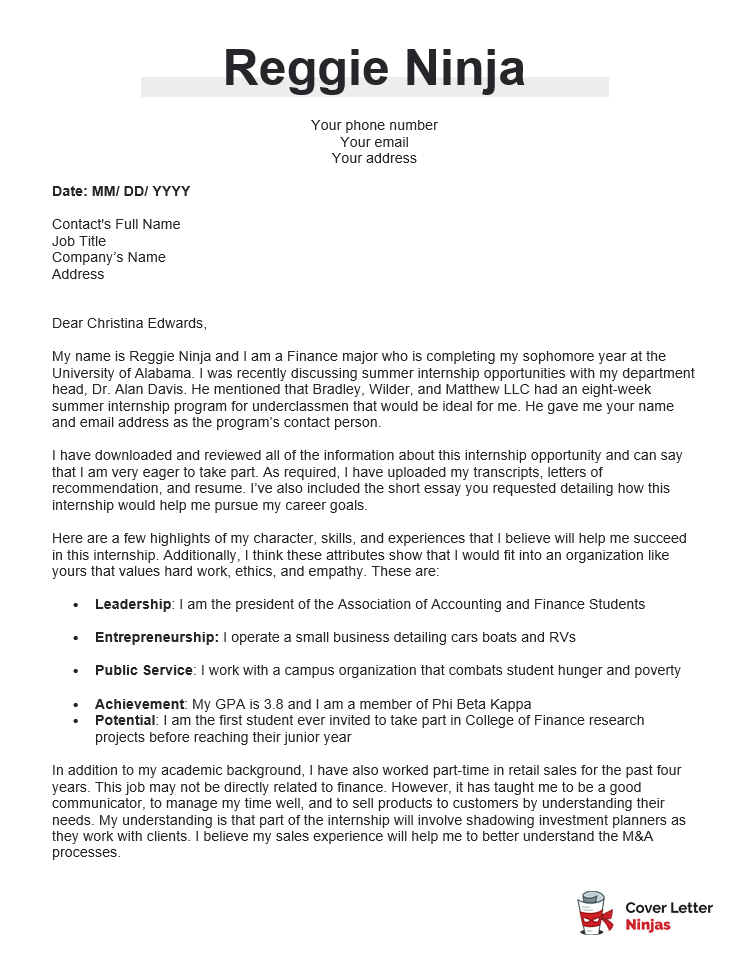 Cover Letter Example For Finance Internship – Text Format
Dear Christina Edwards,
My name is Reggie Ninja and I am a Finance major who is completing my sophomore year at the University of Alabama. I was recently discussing summer internship opportunities with my department head, Dr. Alan Davis. He mentioned that Bradley, Wilder, and Matthew LLC had an eight-week summer internship program for underclassmen that would be ideal for me. He gave me your name and email address as the program's contact person.
I have downloaded and reviewed all of the information about this internship opportunity and can say that I am very eager to take part. As required, I have uploaded my transcripts, letters of recommendation, and resume. I've also included the short essay you requested detailing how this internship would help me pursue my career goals.
Here are a few highlights of my character, skills, and experiences that I believe will help me succeed in this internship. Additionally, I think these attributes show that I would fit into an organization like yours that values hard work, ethics, and empathy. These are:
Leadership: I am the president of the Association of Accounting and Finance Students
Entrepreneurship: I operate a small business detailing cars boats and RVs
Public Service: I work with a campus organization that combats student hunger and poverty
Achievement: My GPA is 3.8 and I am a member of Phi Beta Kappa
Potential: I am the first student ever invited to take part in College of Finance research projects before reaching their junior year
In addition to my academic background, I have also worked part-time in retail sales for the past four years. This job may not be directly related to finance. However, it has taught me to be a good communicator, to manage my time well, and to sell products to customers by understanding their needs. My understanding is that part of the internship will involve shadowing investment planners as they work with clients. I believe my sales experience will help me to better understand the M&A processes.
In order to give 100% effort to this internship, I have made arrangements to take an extended leave from my job. I have also not scheduled any summer classes. This will give me full availability, and remove any distractions.
Thank you for taking the time to read my letter. I hope we can meet soon to discuss this opportunity.
Sincerely,
Reggie Ninja
Check These Relevant Samples Next
How to Write A Cover Letter for Finance Internship
When it comes to the world of finance, clarity is key. You can't just put in a load of blanket statements without "quantifying them". In other words: don't just say you are "qualified", "interested", and "motivated" — exemplify your fit using references to your professional and academic background. The following tips help you do just that.
Don't Be Vague About Your Best Attributes
So many internship applicants merely put down their best characteristics and a summary experience and hope the reader will draw the right conclusion. When it comes to competitive internships, there's just no time or place to be coy about things. Instead, be very clear about your positive attributes. Then, provide proof of them. That's what the writer did above with their list of bullet points.
Show The Effort You Are Willing to Put In
Sadly, so many students land internships but never take full advantage of them. Instead, they just do the bare minimum to get that required credit for graduation. This is too bad because a good internship isn't just a new entry for your resume — it's a potential opportunity for employment. The people you meet and work with could also be future work references and mentors. Also, you could be exposed to an area of finance that truly interests you, that you weren't aware of previously.
For example, the letter writer above indicated they were willing to dedicate time to the internship. Specifically, they cleared their summer calendar so they could get the most out of the internship.
Pay Attention to The Requirements
Don't write or submit anything until you have read all of the information provided about the internship. You'll want to have your whole package of documents ready to upload. Also, there may be some special instructions that detail questions they want you to answer in your cover letter.
Final Tip: Reach Out to Multiple People
Always submit your letters of interest and applications for multiple internships. Yes, you may have your one dream company. However, a good internship is always better than none. You can always turn down the wrong experience later on.