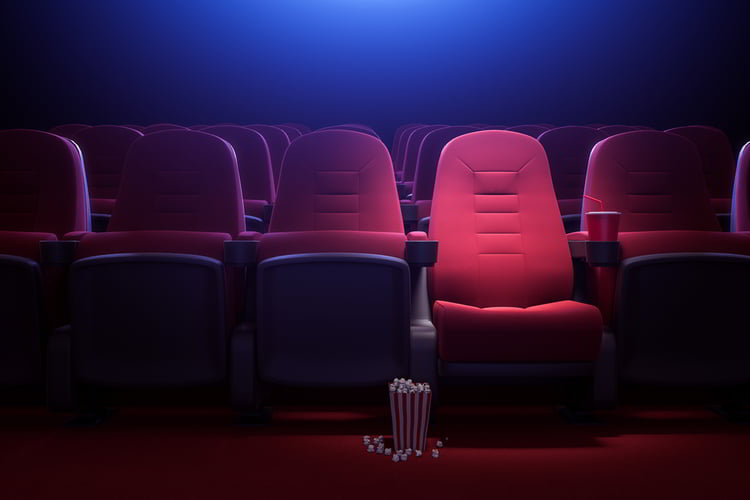 Jobs at film festivals may sound pretty attractive for novice event planners, movie buffs, or recent Arts graduates. The best part — many organizers hire for both full-time and part-time positions. 
At any rate, this can be a great experience with some really neat perks such as:
Meeting interesting people in the film industry
The chance to watch the latest releases
Good pay — often union scale.
Tips and free meals.
The challenge, however, is that film festival jobs are temporary and tend to be filled quickly. You have to get ahead of the game! Start with setting up alerts for local festival announcements and scan their websites for jobs. Once you see a new opening, don't wait too long for applying! Or the job may be gone.
To act quickly on emerging opportunities, be sure to have an up-to-date resume at hand, plus a compelling cover letter. In this post, we share some amazing tips for writing that cover letter and a top-notch film festival cover letter sample.
Make Your Availability Clear
The hardest part of staffing an event is ensuring that everyone scheduled to work shows up on time and can handle the assigned part-time shifts. 
Show that you are a reliable and well-organized person at the beginning of your cover letter. It's easy to do. Just state:
Your availability during the festival — the more shifts you can work the better.
Whether you will have transportation available and have a valid driver's license.
The day and time you will arrive for the festival.
Show That You Understand The Compensation Structure
This is important. Film festival organizers are easily frustrated by workers who demand payment for their work on a shift-by-shift basis. Or otherwise do not pay attention to the information they receive regarding payment for the event.
Don't be that person. Instead, quickly acknowledge that you agree with the proposed payment terms:
"I understand that I will be paid via PayPal after the closing of the event on March 31st. I have included my PayPal email address in my attached resume as instructed."
Share Any Relevant Qualifications
Do you have some mechanical skills? Can you perform handiwork? Or perhaps you've earned your food-service sanitation certification? Can you run a cable or set up AV equipment? Do you have experience working at other large events as an event coordinator? 
Film managers need people with a wide range of hard skills. So be sure to prioritize the right ones in your cover letter. Doing so will increase your chances of getting the gig and might result in an increase in pay!
ADVICE FROM OUR EXPERT
---
Identify what creative skills, past experience, and personal inspiration best align with the position you're targeting. Utilize your cover letter to highlight how your professional story and personal interests best position you for this role, particularly how the organization would benefit from your creative contributions.

Claire Webber
Career Consultant, CPCC, CPRW
Not sure which skills are in-demand? Do two things:
First, re-read the original job ad and highlight all the keywords in the requirements section.
Next, check cover letter examples in related niches to pick some extra ideas.
Be Enthusiastic, But Don't Gush
In most cases, film festival organizers really do want to work with people who love movies. If you are a particular fan of the genre being featured, that's even better. On the other hand, they need people who will focus on getting their work done quickly and properly, not someone who sees the event as an opportunity to meet a celebrity or pitch their own film ideas.
Show that you have a passion for the job, but also care about the organizers' agenda. Here's a brief example:
"Since, high school, I have been a fan of Korean anime. I look forward to watching some great movies when I'm not scheduled to work. I'm particularly excited to see the new movie from Rising Sun Studios."
Film Festival Cover Letter Sample in .docx Format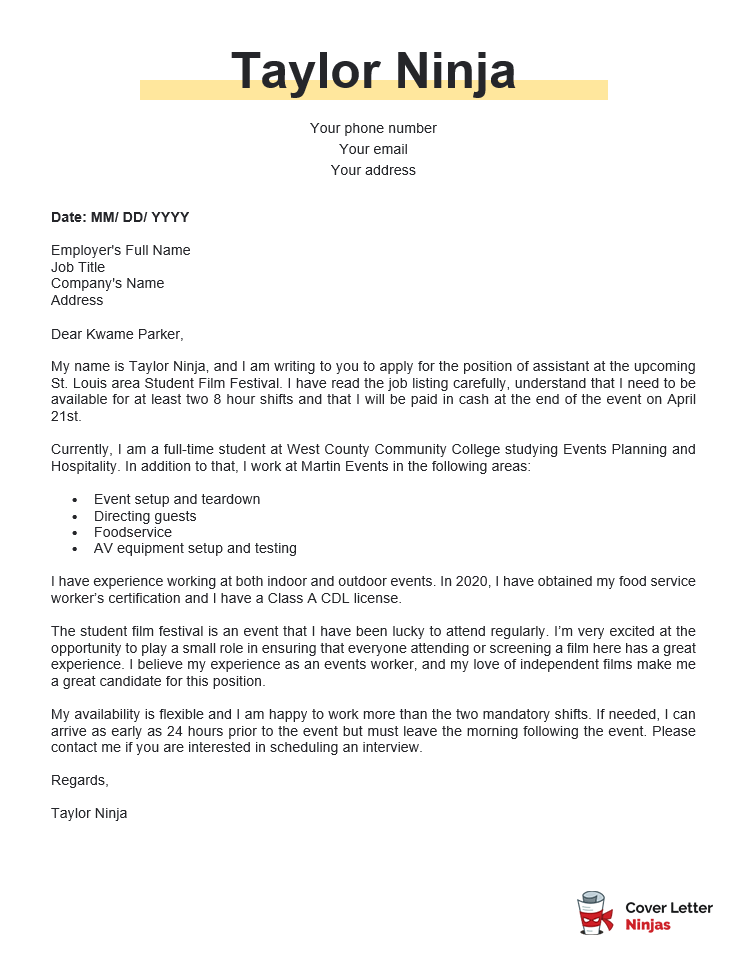 Download example (Word version)
Film Festival Cover Letter Example – Text Format
Dear Kwame Parker,
My name is Taylor Ninja, and I am writing to you to apply for the position of assistant at the upcoming St. Louis area Student Film Festival. I have read the job listing carefully, understand that I need to be available for at least two 8 hour shifts and that I will be paid in cash at the end of the event on April 21st.
Currently, I am a full-time student at West County Community College studying Events Planning and Hospitality. In addition to that, I work at Martin Events in the following areas:
Event setup and teardown
Directing guests
Foodservice
AV equipment setup and testing
I have experience working at both indoor and outdoor events. In 2020, I have obtained my food service worker's certification and I have a Class A CDL license.
The student film festival is an event that I have been lucky to attend regularly. I'm very excited at the opportunity to play a small role in ensuring that everyone attending or screening a film here has a great experience. I believe my experience as an events worker, and my love of independent films make me a great candidate for this position.
My availability is flexible and I am happy to work more than the two mandatory shifts. If needed, I can arrive as early as 24 hours prior to the event but must leave the morning following the event. Please contact me if you are interested in scheduling an interview.
Regards,
Taylor Ninja
Final Tip: Keep It Short and Simple
Remember that you aren't applying for a lifelong career. But pitching for a good that could be a stepping stone to many more other career paths. Hence, stick to the most pertinent information. Get to the point fast. Then close the deal. Your brevity will be more appreciated than a lengthy, fawning cover letter.