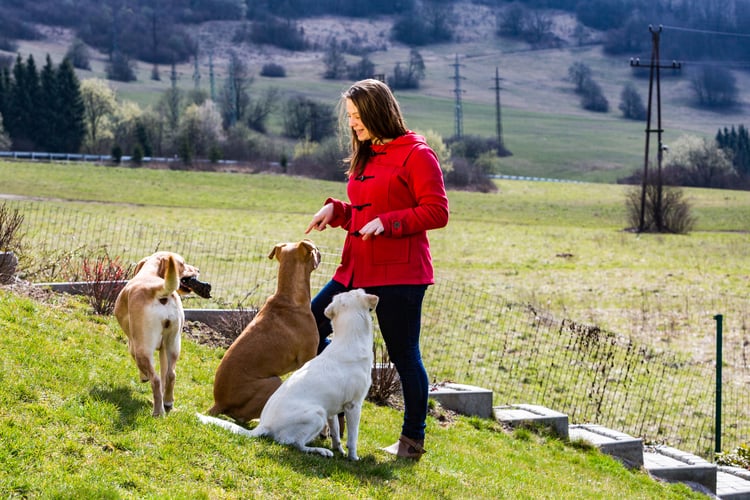 If you'd like to earn a job caring for animals, you aren't alone. Animal care positions are available at kennels, shelters, rescue agencies, and other veterinary businesses. Also, many people take on animal care jobs as independent contractors — for instance as groomers, pet sitters, and walkers.
Overall, most animal care jobs tend to be flexible and rewarding for furry-friend lovers. Also, it's a high-growth industry. According to the US Bureau of Labor Statistics, the number of animal care and service jobs is projected to increase by 33% between 2020-30.
Still, if you want to land a good gig in this field, you'd need to impress a potential employer with a great cover letter for Animal Care. Below is a sample letter and some extra writing tips.
Cover Letter Sample For Animal Care Jobs – .docx Format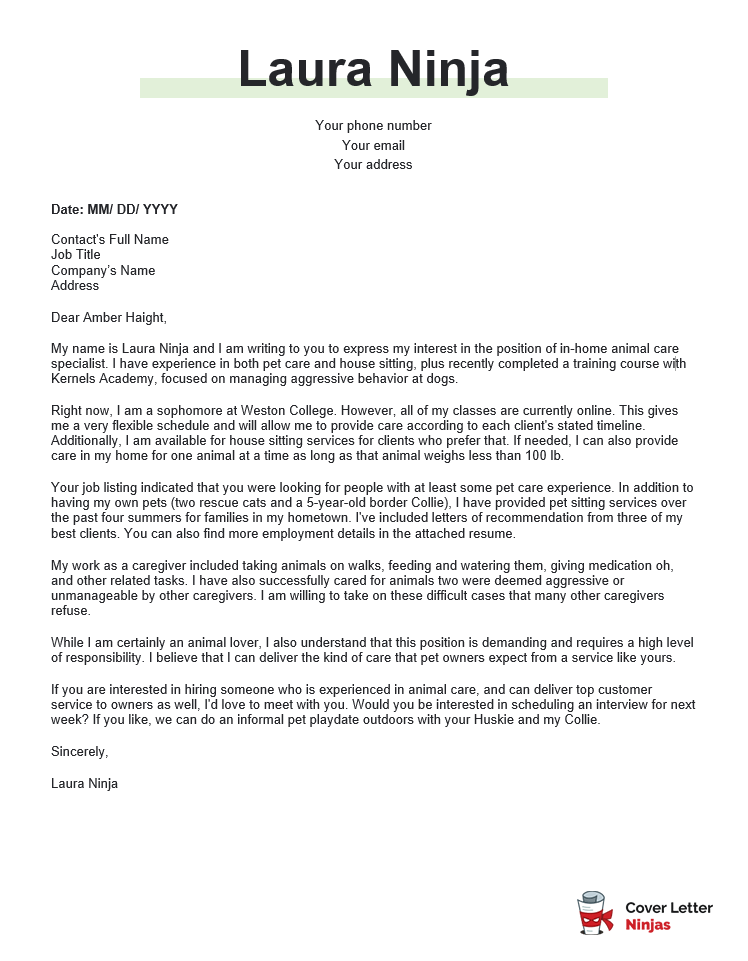 Download example (Word version)
Cover Letter Example For Animal Care – Text Format
Dear Amber Haight,
My name is Laura Ninja and I am writing to you to express my interest in the position of in-home animal care specialist. I have experience in both pet care and house sitting, plus recently completed a training course with Kernels Academy, focused on managing aggressive behavior at dogs.
Right now, I am a sophomore at Weston College. However, all of my classes are currently online. This gives me a very flexible schedule and will allow me to provide care according to each client's stated timeline. Additionally, I am available for house sitting services for clients who prefer that. If needed, I can also provide care in my home for one animal at a time as long as that animal weighs less than 100 lb.
Your job listing indicated that you were looking for people with at least some pet care experience. In addition to having my own pets (two rescue cats and a 5-year-old border Collie), I have provided pet sitting services over the past four summers for families in my hometown. I've included letters of recommendation from three of my best clients. You can also find more employment details in the attached resume.
My work as a caregiver included taking animals on walks, feeding and watering them, giving medication oh, and other related tasks. I have also successfully cared for animals two were deemed aggressive or unmanageable by other caregivers. I am willing to take on these difficult cases that many other caregivers refuse.
While I am certainly an animal lover, I also understand that this position is demanding and requires a high level of responsibility. I believe that I can deliver the kind of care that pet owners expect from a service like yours.
If you are interested in hiring someone who is experienced in animal care, and can deliver top customer service to owners as well, I'd love to meet with you. Would you be interested in scheduling an interview for next week? If you like, we can do an informal pet playdate outdoors with your Huskie and my Collie.
Sincerely,
Laura Ninja
How to Write a Cover Letter for Animal Care Jobs
Are you ready to write a letter that will impress the hiring manager and help get you that coveted interview? Then go along with these tips.
Make Yourself Stand Out in the Opening Paragraph
Do you have any sort of special expertise that other applicants may not? If so, highlight it early in your cover letter. For example, in the sample cover letter above the writer mentions having experience dealing with animals that are difficult to care for and aggressive. That could certainly be appealing to a hiring manager who has difficulty fighting people with that particular skill.
ADVICE FROM OUR EXPERT
---
Read through the posting carefully to understand all the responsibilities in working with the animals. You will want to address if you have experience in general grooming, training, or caring for sick animals in your cover letter if it is listed as a requirement of the job.

Debi Douma-Herren
Senior Certified HR Professional & Career Coach
Show You Take the Job Seriously
Some jobs attract applicants who simply believe that animal care positions are fun cuddles and playtime only. While animal care can definitely be enjoyable, it also requires dedication and responsibility. And, in some cases, a proper degree and work experience as a veterinary.

Use your cover letter to show that you understand this and that you take every job seriously. You don't want to appear as if you are submitting an application on a whim because you believe that animals are cute creatures, living for your enjoyment.
Refer to your Resume
If you can get the hiring manager interested in your resume, you increase your chances of landing an interview. Remember that your cover letter is an introduction and your resume should contain details about your skills and experience. Connect your resume to your cover letter by mentioning that the reader can obtain more context about your experience from that document.
Focus on Professionalism
Even though animal care physicians are often part-time and sometimes casual in nature, you should take the application process seriously. Use a professionally formatted template for your cover letter and make sure you use a good spelling and grammar checking utility. Do the same with your resume. Your application packet should show that you are a professional in pursuit of the job that you intend to do very well.
Final Tip: Customer Care is Key
In this job, you're going to work closely with the pet owners too. Many pet parents are head over heels about their furry buddies. But may not always realize that they are not providing the best care and nurturing to their buds. Thus, most employers will want to know if you can be diplomatic and tactful when working with clients. Show that you can go above and beyond animal care to provide great customer service to the owners as well.