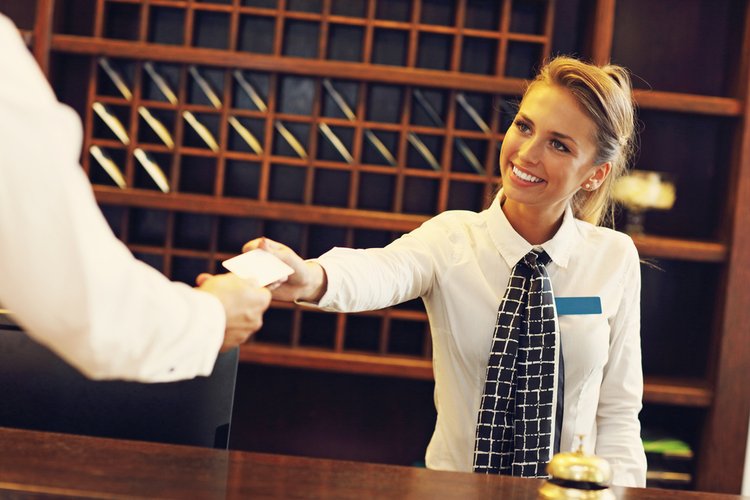 If you are an energetic multi-tasker with a keen interest in the travel industry, consider a job as a hotel front desk clerk. You'll enjoy busy workdays in a field where growth is consistent, and internal advancement is common.
If you have excellent people skills, a professional appearance, and take pride in ensuring travelers have an enjoyable stay, it's time to put together a great application packet. That includes a compelling cover letter. We're here to help with that. So, keep reading for useful tips, and a sample cover letter for the hotel front desk.
Show That You've Researched The Facility and Surrounding Area
Each front desk position is going to have a unique set of requirements. These will be largely influenced by the type of guest the hotel targets, and the surrounding attractions.
For example, the daily tasks of a front desk employee at a hotel that attracts first-class business travelers will be quite different from those of an employee working at a family resort near a major tourist attraction. Your letter should show that you understand the needs of the target customer. Consider including something like this:
"I am committed to providing every customer I interact with 5-star customer service. Because I have more than three years of experience working in the luxury hotel space, I have a clear understanding of the needs of executive travelers."
Demonstrate Your Personality is a Great Fit
When applying for a people-facing job like this, many applicants emphasize that they are 'good with people'. That's wonderful, but it is somewhat vague. A successful front desk clerk needs to demonstrate an array of personal attributes and customer service skills. So mention that you are:
A problem-solver.
Has patients with others.
Take a genuine interest in others
Is flexible.
Can make good judgments on the spot.
Share Relevant Career Goals
Should I mention my career goals in my cover letter? That depends! If you simply see the front-desk opening as one of many jobs that you might have while you pursue an unrelated degree and career, probably not. On the other hand, if you have a sincere interest in making a career in the hospitality industry and progressing to a manager role, you should absolutely talk about your short and long-term career goals. It's always a good idea to get potential employers to visualize you moving up within their ranks.
ADVICE FROM OUR EXPERT
---
In hospitality-driven roles, focus on enhancing your most relevant experience and skills that show how you'd support the team. Tailor your cover letter to highlight how you will drive the company's communication and customer service expectations. Tell your professional story and don't be afraid to show your personality.

Claire Webber
Career Consultant, CPCC, CPRW
Make Your Experience Count
A cover letter isn't the place to inventory your experience (you have a resume for that). Your goal here is to create a narrative, showing that the skills you have are relevant to the job. This is especially true if you don't have prior experience in the hotel industry, but rather transitioning from a retail or receptionist job. You may need to be a bit creative, but there are ways to make your responsibilities at your current job relate to the job you are seeking. Here's a brief example.
"In my current job as a rental property manager, I have developed many skills that I believe will be quite relevant in this position. I can process debit and credit card transactions, take reservations over the phone, and deploy cleaning and maintenance staff to deal with any emergencies."
Include a Service-Related Story
How have you gone above and beyond to deliver an amazing guest experience? This question is quite common in interviews. Why not answer it in your cover letter? A brief story can do more to convince someone than paragraphs full of empty claims. So consider briefly relaying one of your customer service success stories.
"Last year, a competing hotel abruptly canceled the reservations of a little league soccer team without warning or explanation. While our rooms were completely booked that weekend, I worked with our maintenance team to convert a conference room into a temporary camp with cots, large screen television, pizzas, and other snacks. The kids and their families had an amazing time. We were thanked with multiple 5-star reviews on Yelp."
Hotel Front Desk Cover Letter Sample in .docx Format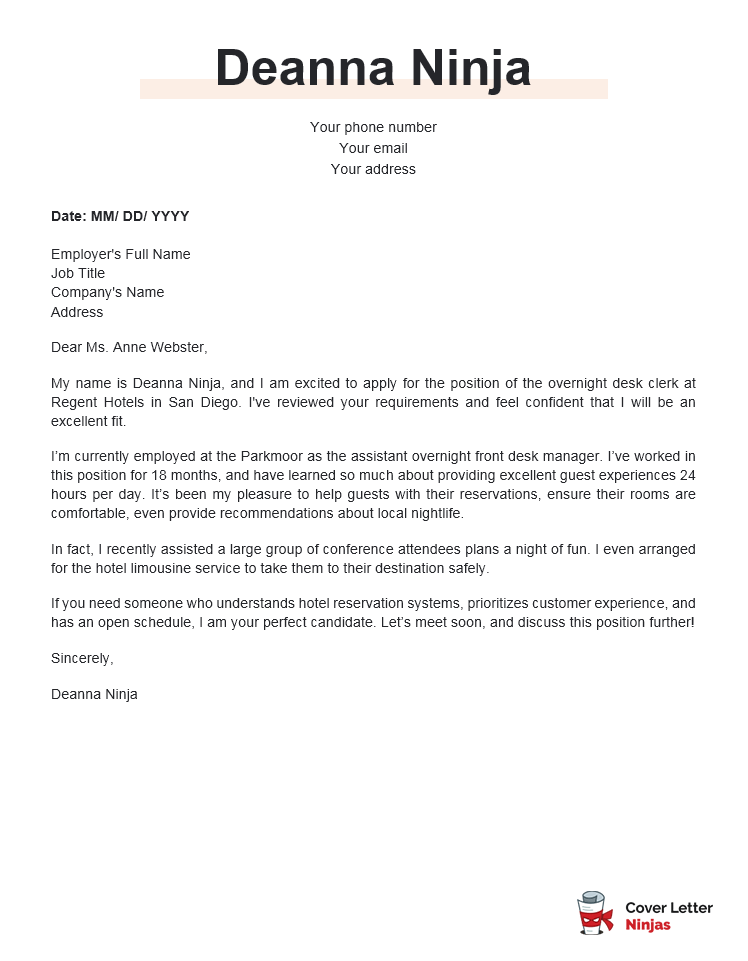 Download example (Word version)
Cover Letter Example For Hotel Front Desk – Text Format
Dear Ms. Anne Webster,
My name is Deanna Ninja, and I am excited to apply for the position of the overnight desk clerk at Regent Hotels in San Diego. I've reviewed your requirements and feel confident that I will be an excellent fit.
I'm currently employed at the Parkmoor as the assistant overnight front desk manager. I've worked in this position for 18 months, and have learned so much about providing excellent guest experiences 24 hours per day. It's been my pleasure to help guests with their reservations, ensure their rooms are comfortable, even provide recommendations about local nightlife.
In fact, I recently assisted a large group of conference attendees plans a night of fun. I even arranged for the hotel limousine service to take them to their destination safely.
If you need someone who understands hotel reservation systems, prioritizes customer experience, and has an open schedule, I am your perfect candidate. Let's meet soon, and discuss this position further!
Sincerely,
Deanna Ninja
Final Tip: Emphasize Your Flexibility
Since front-desk positions assume shift work, you may be asked to cover a variety of hours. If your schedule is open, be sure to include that fact in your cover letter. It could lead to important points in your favor.
Still not sure how to frame your cover letter? Peruse more amazing cover letter examples on our website!