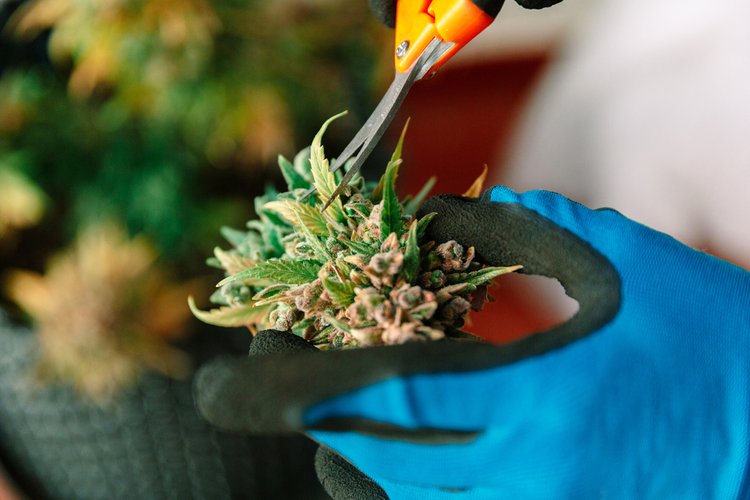 As states begin to legalize or decriminalize cannabis, many enterprising folks are seeking out jobs at dispensaries. It's easy to see why! These jobs tend to be well-paying with great perks. Many workers also enjoy the work environment at dispensaries as they tend to be Gen-Z friendly, and a bit laid back.
So, how do you land a job at a dispensary? First, be sure you meet the baseline qualifications. Next, you gotta have your resume and cover letter ready. We'll help you with the latter. Check out our tips, followed by a great sample cover letter for working at a dispensary.
Cover Letters are Non-Optional
Many people don't bother to send a cover letter with their resume and that's a total blunder. There's really no better way to express your true interest in a position. Or show that you are a perfect fit for the work environment. You can also use your cover letter to highlight some aspects of your personality and previous relevant work experience. Together with a well-written resume, a cover letter makes an unbeatable job application combo!
ADVICE FROM OUR EXPERT
---
It's important to draw a close connection between the position you're applying for and your experience, accomplishments, and achievements. With a professional, yet sincere approach, emphasize your formal experience to optimize why you're well qualified for the role. Incorporate key words from the job posting to ensure your cover letter mirrors similar language.

Claire Webber
Career Consultant, CPCC, CPRW
Lead With Enthusiasm and Follow With Your Qualifications
Use the first paragraph of your letter to introduce yourself and "sell" your eagerness for the proposed job. First, explain what makes you interested in the cannabis industry as a whole, the company, and the specific position you are applying for. Be sincere so the hiring manager really gets your personality.
Just keep in mind that this is your chance to show that you'd be a great fit. Adjust your communication style a bit so that it reflects the overall persona and style of the dispensary's branding. Consider something like this:
"I was so excited to learn that Prairie Village would be home to the Green Ways dispensary. Now that you are hiring budtenders, I am absolutely thrilled at the opportunity to work in an industry that promotes wellness and environmental stewardship."
Now, use the following paragraph to highlight your most important qualifications. Pick one or two of the core competencies that will help you to stand out among the other applicants.
Provide Brief Explanations For Employment Gaps (If Any)
Take a look at your resume. Do you have gaps in your employment history? Your potential employer will want to know what's going on, and your cover letter is the perfect place to explain things. Remember that it's perfectly fine to have a gap in your employment to stay home with your family, go to school, travel, study, or do volunteer work.
Before you start writing, keep a few things in mind. First, the best explanation is a simple one. Don't spend multiple sentences explaining your life choices. Next, be honest. Don't say you were attending school when you simply had trouble finding the right job. Finally, if something truly needs a detailed explanation, save it for the interview.
Ensure That You Have Followed The Required Pre-Application Steps
It's not easy to get a job at a dispensary. As these businesses operate under strict regulations, and they have to ensure every person they hire meets basic criteria. Candidates with debt problems, criminal records, or other issues are excluded from consideration.
Before you can apply, you may need to do the following:
Sign releases for a credit check and criminal background check.
Provide several personal and professional references.
Have your fingerprints taken at your local police station.
Obtain copies of your recent tax returns.
Ensure that your ID and other documents are available and up to date.
Remember that the process of vetting employees can be expensive. By staying on top of the documents you are supposed to provide, you show that you are a serious candidate.
Cover Letter Sample For Working at a Dispensary – .docx Format
Let's put these tips into action. Take a look at our sample cover letter for someone pursuing a job as a budtender.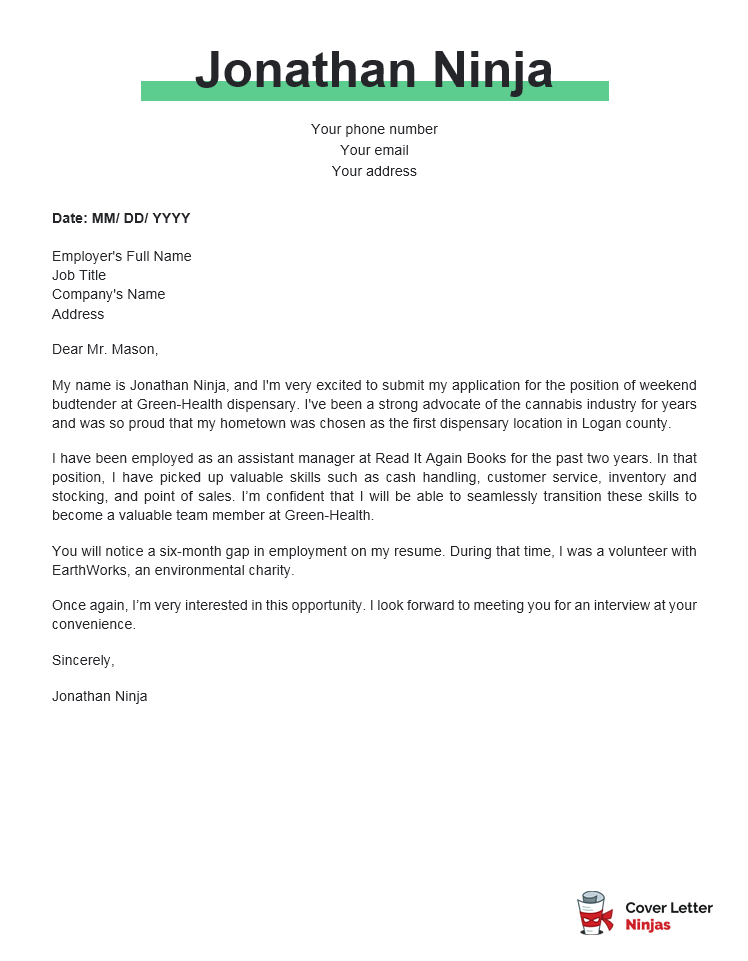 Download example (Word version)
Cover Letter Example For Working at a Dispensary – Text Format
Dear Mr. Mason,
My name is Jonathan Ninja, and I'm very excited to submit my application for the position of weekend budtender at Green-Health dispensary. I've been a strong advocate of the cannabis industry for years and was so proud that my hometown was chosen as the first dispensary location in Logan county.
I have been employed as an assistant manager at Read It Again Books for the past two years. In that position, I have picked up valuable skills such as cash handling, customer service, inventory and stocking, and point of sales. I'm confident that I will be able to seamlessly transition these skills to become a valuable team member at Green-Health.
You will notice a six-month gap in employment on my resume. During that time, I was a volunteer with EarthWorks, an environmental charity.
Once again, I'm very interested in this opportunity. I look forward to meeting you for an interview at your convenience.
Sincerely,
Jonathan Ninja
Final Tip: Keep it Short And Streamlined
The best cover letter is one page or less. Use short paragraphs, and avoid rambling. This is the best way to ensure that a busy hiring manager will give your application package the consideration it deserves.
And if you are struggling to pack your letter into a single page, try using one of our free cover letter templates to keep your writing more organized!