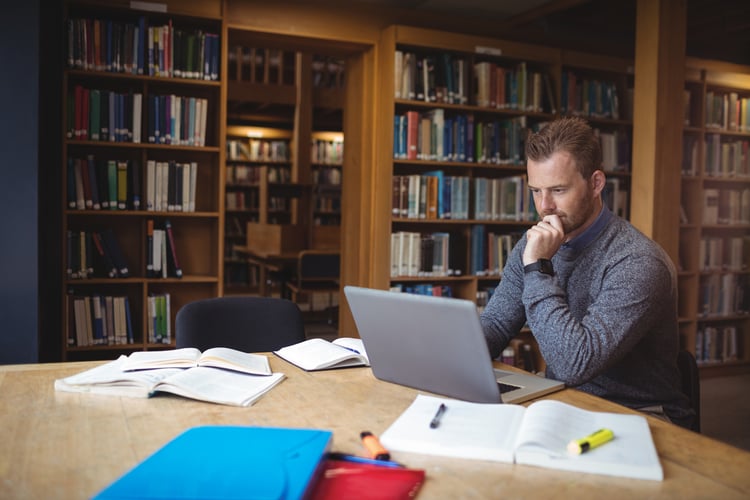 Should you include a cover letter when you submit a manuscript for journal publication? Of course, you do! Especially if the submission is unsolicited. That is you are cold-pitching an editor or offering something outside of the commission. Your cover letter will contain important introductory information, and contextualize what you are providing.
So, how do you proceed? Use our cover letter example as a reference point. Then customize it using the bonus cover letter writing tips.
Cover Letter Sample For Manuscript Submission in .docx Format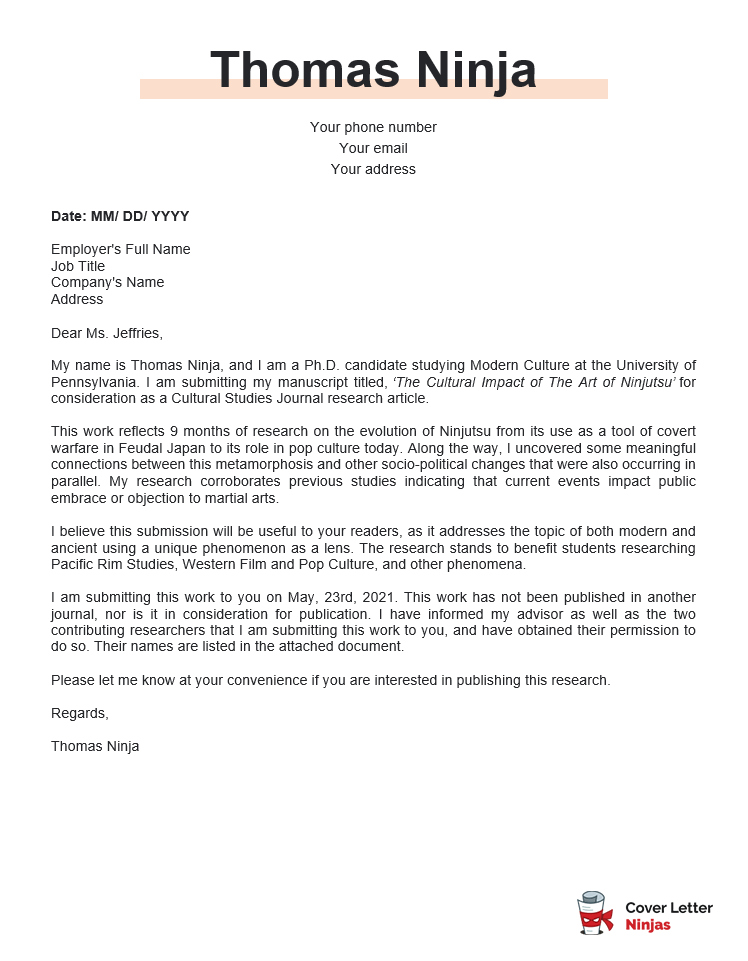 Download example (Word version)
Cover Letter For Manuscript Submission Example – Text Format
Dear Ms. Jeffries,
My name is Thomas Ninja, and I am a Ph.D. candidate studying Modern Culture at the University of Pennsylvania. I am submitting my manuscript titled, 'The Cultural Impact of The Art of Ninjutsu' for consideration as a Cultural Studies Journal research article.
This work reflects 9 months of research on the evolution of Ninjutsu from its use as a tool of covert warfare in Feudal Japan to its role in pop culture today. Along the way, I uncovered some meaningful connections between this metamorphosis and other socio-political changes that were also occurring in parallel. My research corroborates previous studies indicating that current events impact public embrace or objection to martial arts.
I believe this submission will be useful to your readers, as it addresses the topic of both modern and ancient using a unique phenomenon as a lens. The research stands to benefit students researching Pacific Rim Studies, Western Film and Pop Culture, and other phenomena.
I am submitting this work to you on May, 23rd, 2021. This work has not been published in another journal, nor is it in consideration for publication. I have informed my advisor as well as the two contributing researchers that I am submitting this work to you, and have obtained their permission to do so. Their names are listed in the attached document.
Please let me know at your convenience if you are interested in publishing this research.
Regards,
Thomas Ninja
Tips For Writing a Great Cover Letter For Manuscript Submission
As you can see, this is a short cover letter. But it still packs a punch. In general, manuscript cover letters should not run too long as you are probably addressing a busy editor. The above means that every word should count. The follow-up tips will help you write your cover letter, format it correctly, and pitch it to the right publishers.
Get All The Right Information In
The person reading your cover letter will be looking for some specific information. Some of this will be in the header of your letter. But, there is a significant amount of data to include in the body of your letter as well.
Use the following as a checklist:
The name of the editor
The name of the journal
The title of your manuscript
Date of Submission
The type of manuscript you are submitting
Information on your research
Your methodology and instruments
What your conclusions are, and their impact on your discipline
Your contact information
Avoid Over The Top Descriptions
You are submitting an academic manuscript for publishing consideration. You aren't selling a novel, pitching poetry, or convincing a hiring manager that you are the best fit for the job. Keep things formal and understated. (Even if you really want to get your research published!). Avoid using excessive superlatives to describe the research you've done or the work you are submitting. 
Don't write your cover letter to include phrases like 'groundbreaking' or 'disruptive'. Also, don't bury the reader in pointless jargon. If it can be communicated in plain English, do that. If it cannot be, provide a simple explanation.
ADVICE FROM OUR EXPERT
---
When creating academic-based cover letters, clearly explain your purpose and why you're an ideal fit for the opportunity. Emphasize your accomplishments and core skills, specifically regarding your academic background, and how that positions you for future success.

Claire Webber
Career Consultant, CPCC, CPRW
Keep it Brief
A cover letter for manuscript submission should be three paragraphs at most. Present yourself and your research in paragraph one. Use paragraph two to detail how and why your work is relevant. Add a third paragraph to cover any formalities. That's it. You are good to hit Send.
Confirm Your Permissions
The publisher will want to know that your work can be published without any issues. You need to assure them that they can.
To do so, include a statement that addresses the following points:
That you haven't had the work published in other journals, or have permission from previous publishers.
You have obtained clearance from other researchers to submit the manuscript.
The manuscript is owned by you, and you have the right to submit it
Follow Instructions To a Dot
Research the journal and publisher. They probably have specific submission instructions. For example, they may dictate that all work is submitted as a PDF document. Or that you send them a separate list of research links. Take a few minutes to comply, so that you don't lose an opportunity to be published.
Final Tip: Have a Response Prepared
Publishing in academics journals can be an involved process. The publisher may have additional questions for you. For example, you may be asked for article examples from their journal that are similar to theirs. They may also ask to clarify your research methods. Identify what might bring up more questions, and have some answers prepared.