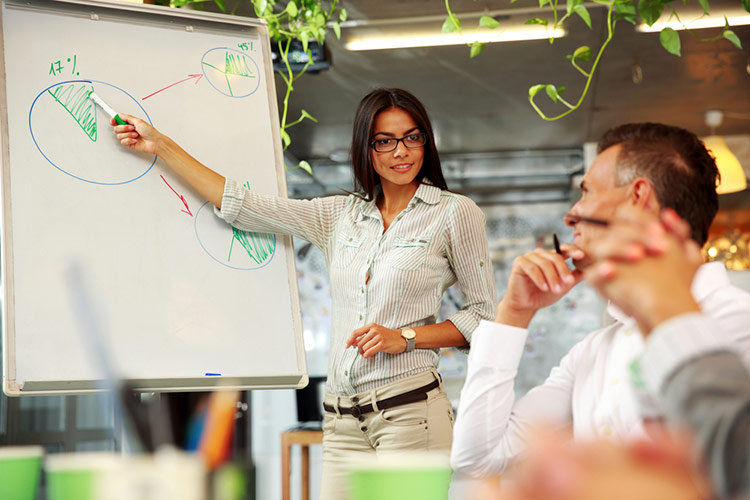 As a consultant, you may be brought on board to improve performance in a specific business area, or to head an important project on a temporary basis. One of the challenges that consultants face is that they frequently need to search for new jobs unless they score a full-time position with a big-name consulting firm.
At this point, you may already have your resume up-to-date and all glossed up. Now, what about your cover letter? Is it ready to help you land your next contract gig or something bigger?
The following tips will help you write an impactful cover letter. Keep reading to the end to check out a great consulting cover letter sample.
Address Your Cover Letter to The Department Head
The process of hiring a part-time consultant is a bit different than that of hiring a full-time employee. Because you are likely operating as a DBA or an LLC, you may receive the vendor treatment. In fact, an employer may even ask you to submit an official bid, along with a detailed project proposal.
In many cases, the decision to hire a consultant begins and ends with the department head of the business area that needs help. This is in contrast to people seeking hired positions where the process begins with human services. So, rather than routing your letter to the HR department, do some research, and try to get in touch with the Department Head who's in dire need of your strategic guidance.
Cut to the Benefits Quickly
Consultants often charge a significant amount of money for their services. That's fine because you are absolutely worth it and you have personal overheads too. Plus, you've heavily invested in developing deep domain expertise in your field and it should be priced accordingly.
However, when reviewing your letter, people will also expect you to quantify just how much value you can deliver for the said price. So share your unique value proposition quickly. That means you should state very early in your cover letter exactly why you are worth every cent and that the ROI of partnering with you won't have to wait long. For example, you could lead with a short anecdote about helping a client increase their bottom line by more than a million dollars.
ADVICE FROM OUR EXPERT
---
It is more important to focus on recent work with strong results instead of your most relevant experience. This will make you seem more in-demand, which is sometimes the toughest hurdle for consultants.

Mary Ford
Executive Career Coach
Share Your Willingness to Go The Extra Mile
Consulting is not a Monday thru Friday gig. Consultants are often brought in to fix significant issues, or to stave off a crisis. In addition to being the best of the best in your field, you must be willing to go the extra mile. Are you okay with working nights or weekends? What about being on call? Will you travel or relocate for a few months? This is the kind of information you want to include in your cover letter.
Detail Your Relevant Projects
To best demonstrate what you can do for your potential client, including some details about some recent projects that are relevant to the current job. Explain what you did, the problem you solved, then quantify the results.
Begin The Next Steps
Don't wait for a yes. Instead, close your cover letter as if you know that getting the contract is a sure thing. Say how interested you are in doing the work, and suggest a time and place meet. Likewise, you may want to be open about your consulting fees and indicate a range beforehand. For tips on how it's done, check our sample cover letter with salary requirements.
Consulting Cover Letter Sample in .docx Format
The following cover letter sample is a cold pitch from an experienced consultant. They are seeking a contract with a local restaurant group to help them fix a problem they are having with an underperforming restaurant.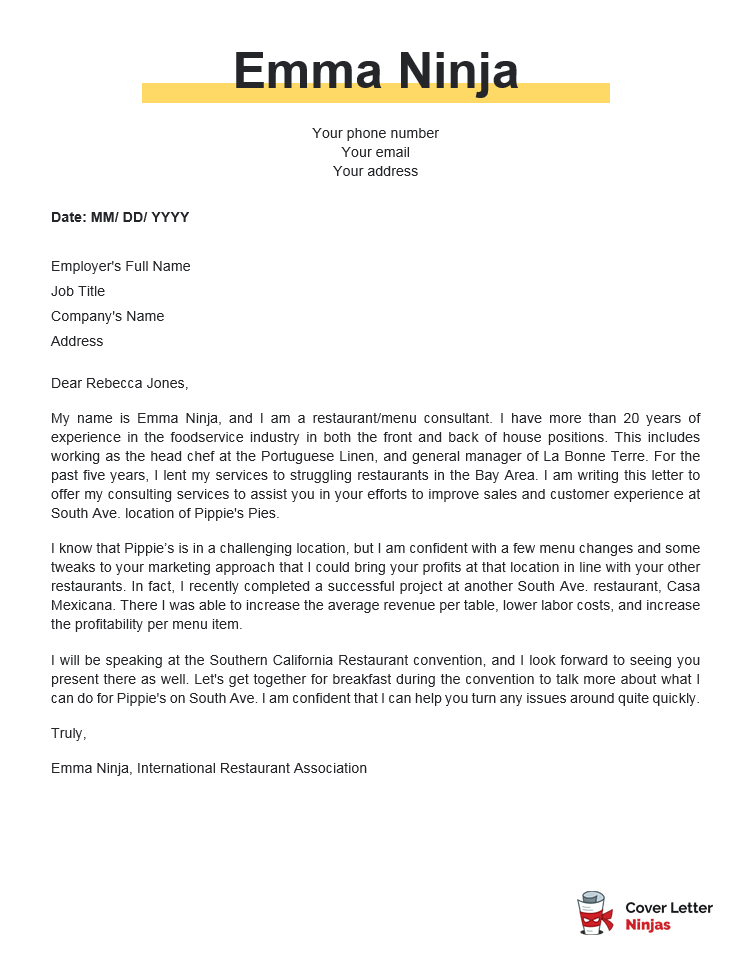 Download example (Word version)
Consulting Cover Letter Example – Text Format
Dear Rebecca Jones,
My name is Emma Ninja, and I am a restaurant/menu consultant. I have more than 20 years of experience in the foodservice industry in both the front and back of house positions. This includes working as the head chef at the Portuguese Linen, and general manager of La Bonne Terre. For the past five years, I lent my services to struggling restaurants in the Bay Area. I am writing this letter to offer my consulting services to assist you in your efforts to improve sales and customer experience at South Ave. location of Pippie's Pies.
I know that Pippie's is in a challenging location, but I am confident with a few menu changes and some tweaks to your marketing approach that I could bring your profits at that location in line with your other restaurants. In fact, I recently completed a successful project at another South Ave. restaurant, Casa Mexicana. There I was able to increase the average revenue per table, lower labor costs, and increase the profitability per menu item.
I will be speaking at the Southern California Restaurant convention, and I look forward to seeing you present there as well. Let's get together for breakfast during the convention to talk more about what I can do for Pippie's on South Ave. I am confident that I can help you turn any issues around quite quickly.
Truly,
Emma Ninja, International Restaurant Association
Final Tip – Show Some Social Proof!
If it's relevant to the work that you do, consider linking to your professional website or LinkedIn profile where the reader can review examples of your past work and read some gushing attestation to your skills and value.