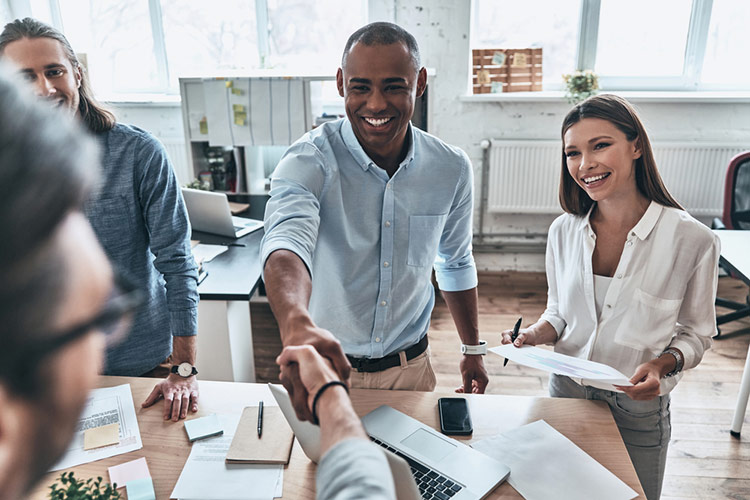 Most advice for job seekers involves landing opportunities outside of your current place of employment. That's helpful, but what if you're happy with your current employer? You believe in your organization's mission, you like your coworkers, and you fit into the company culture. The only issue is that it's time to advance. It only makes sense to seek out an internal promotion.
This is something that comes with its own unique challenges. But our team prepared some advice. Take a look at our tips on securing a new position with your current employer. Then, review our sample cover letter for an internal position.
How Do You Apply for an Internal Position?
First, you'll need to learn about the open positions. Typically, you can find all the opportunities listed on a corporate internal portal. Alternatively, you can check with your HR department directly. Then prepare your resume, cover letter, and other requested application materials. Finally, get ready for an interview. Internal interviews are very similar to standard ones.
Now let's break this down a tad further. Here's how to find open internal positions with your company:
Browse the corporate portal or wiki
Check open job posts on the company website
Approach the HR department directly to discuss your career objectives
Network with colleagues and managers from other departments
Talk to your boss and ask whether they could propose a vertical growth plan for you
The best way to get an internal promotion is by talking to other people in your company. First of all, don't blindside your boss. Have an honest conversation with them about your career aspirations. If you have a good working relationship, they'd be happy to support you and perhaps even introduce you to other managers.
Next, approach the HR department. Show that you are proactive and enthusiastic. Ask about the current openings and talk about different career paths you may be interested in exploring. Also, leave your resume with them for quick reference. So that they could always count you in when a new opportunity becomes available.
And when that day comes, focus on filing the best cover letter for an internal position.
Should You Tell Your Boss About an Internal Interview?
Absolutely. Don't act behind your manager's back. Some people may consider such behavior "sneaky" and "backstabbing". Especially, if they will learn about this in a casual conversation with a colleague or HR. That could lead to workplace conflict and subsequent tensions — something you'd better avoid. Hence, schedule a direct, honest conversation with your boss before you apply.
The only exception from the above is when you are already having issues with your boss. In that case, discuss the matter with HR before you apply for an internal position. Most will know how to gracefully navigate such situations.
Can My Manager Block Internal Transfer?
Yes, legally your manager can resist a transfer or set forth terms and conditions for moving to a new position (as long as these don't violate your work contract or general workplace laws). Of course, a more senior manager may override their decision and HR can intervene on your behalf. 
But you'd probably want to avoid taking matters that far. Hence, if you are sensing resistance from your boss, have a direct conversation with them.
How to Write a Cover Letter for an Internal Position
Writing a cover letter for an internal position isn't much different from writing a standard cover letter.
Craft a short snappy opening, reiterating which position you are after.
Outline your experience, core competencies, and competitive skills in the body of the cover letter.
End your cover letter with a call to action — a short statement, prompting the reader to do a specific thing (e.g. schedule an interview).
Don't assume that the reader already knows you (since you are in the same organization). Your letter may land in front of a manager you are not familiar with.
Also, you should avoid being overly familiar if you already know your new boss. Doing so can put them in an uncomfortable position as they might be accused of biased decision-making and favoritism.
Hence, keep your cover letter professional and on-point. Tell what results you achieved in the past and how you can use your skillset to drive even better results in the new role.
Also, as you gear up for an internal move, do the following.
Volunteer For Leadership Positions
You don't need to be promoted to a position with the title of manager or supervisor to be a leader. If you are proactive enough, you will find opportunities to take the lead. Be on the lookout for an instance where you can lead a small project, for example. If an opportunity doesn't present itself, create one. If necessary, reach out to your current boss, and communicate your desire to take on more challenges.
Take Advantage of Corporate Training Opportunities
Does your company offer free online training, workshops, or offer you the option to take classes on your own time? If so, take advantage of this. In addition to this, seek out cross-training and job shadowing opportunities as well.
This has two benefits that can help you when you are seeking new chances for advancement at work. First, you get the chance to "try out" a certain role and hone your skills before going all in. In addition to this, you also show that you are a proactive go-getter interested in furthering your career.
ADVICE FROM OUR EXPERT
---
Prepare a cover letter for internal jobs much like you would for external jobs, but make sure to focus on the stretch roles you have taken on and volunteered for within the organization. It also helps to mention an internal sponsor who is familiar with your great work.

Debi Douma-Herren
Senior Certified HR Professional & Career Coach
Get to Know People From Other Departments
Unfortunately, in many offices people tend to congregate in departmental cliques. A person may work for a company for several years and remain largely unknown to folks outside of their team. If you're interested in moving up through the ranks, that's a problem. This lack of familiarity can work against you.
As well, it's difficult to learn about open positions elsewhere in your organization if you remain isolated. Thus, make an effort to widen your work-related social circle.
Communicate With Your Current Boss
Don't create an awkward situation or commit a workplace faux pas. Before you submit your resume and cover letter for an internal position, have a conversation with your supervisor. Let them know you are interested in making the move as a matter of courtesy. Who knows, they may be willing to give you their recommendations.
Use The Same Courtesies
Think about all the things you would do to make a good impression if you were applying for a job at another company. You'd take some time to learn about the person interviewing you, you'd research the position and what it entailed, you'd show up for the interview on time, and you'd send a thank you after the interview via email.
When you interview for an internal position, you should do the same things. Don't allow familiarity to supplant your manners.
Avoid Office Politics
If you're interested in earning an internal promotion, you must consider how even the simplest actions could impact how you are viewed. One of these is your decision to participate in office politics and gossip. To put it succinctly, don't do that.
The higher you look up the management structure, you will begin to notice certain behaviors and personality traits. The folks who land the promotions, and move into leadership positions are those who get along with everybody. They maintain positive interactions, and they don't participate in petty office squabbles. By doing so, they rise above office politics and gain the trust of their coworkers.
Applying for an Internal Position Cover Letter Sample in .docx Format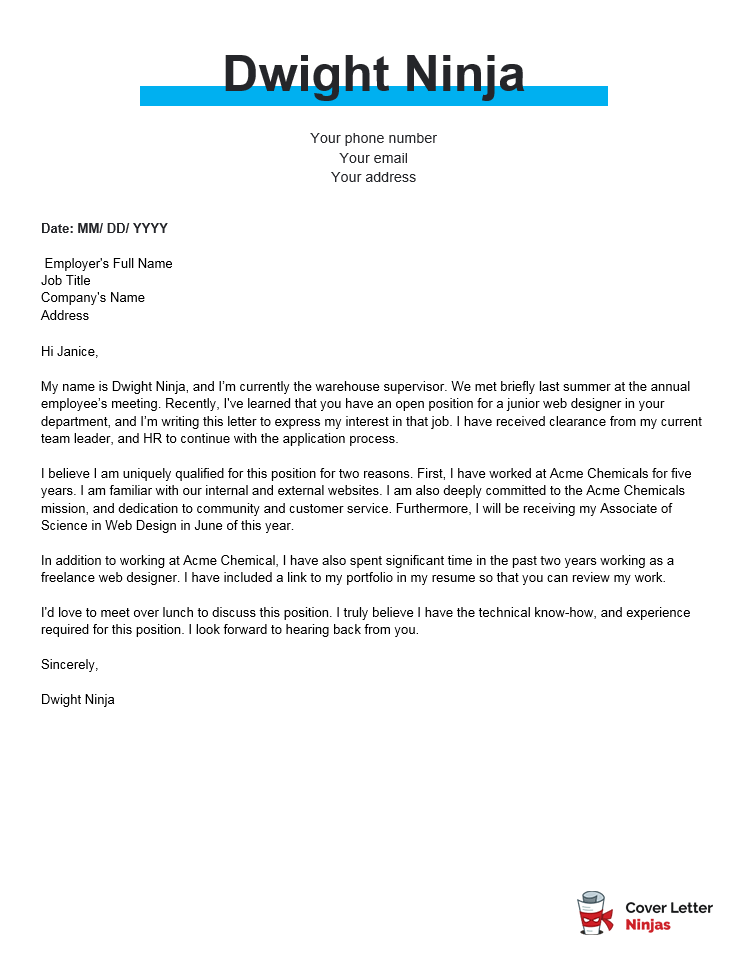 Download example (Word version)
Cover Letter Example For Internal Position – Text Format
Hi Janice,
My name is Dwight Ninja, and I'm currently the warehouse supervisor. We met briefly last summer at the annual employee's meeting. Recently, I've learned that you have an open position for a junior web designer in your department, and I'm writing this letter to express my interest in that job. I have received clearance from my current team leader, and HR to continue with the application process.
I believe I am uniquely qualified for this position for two reasons. First, I have worked at Acme Chemicals for five years. I am familiar with our internal and external websites. I am also deeply committed to the Acme Chemicals mission, and dedication to community and customer service. Furthermore, I will be receiving my Associate of Science in Web Design in June of this year.
In addition to working at Acme Chemical, I have also spent significant time in the past two years working as a freelance web designer. I have included a link to my portfolio in my resume so that you can review my work.
I'd love to meet over lunch to discuss this position. I truly believe I have the technical know-how, and experience required for this position. I look forward to hearing back from you.
Sincerely,
Dwight Ninja
How Much Notice is Required for an Internal Transfer?
Depends on your employment contract terms and arrangements with the current boss and HR. Typically, 2 weeks is an adequate notice for an internal promotion. But the timeline can be shorter or longer, depending on the personal circumstances. 
Final Thoughts
If you are interested in moving up in your company, let someone know. Speak to your supervisor or HR contact. There may be open positions that you have not been made aware of. Also, have a conversation with your boss Let them know you are interested in making the move as a matter of courtesy. Who knows, they may be willing to give you their recommendations.