Internships come in many flavors — full-time and part-time, one month to one academic term, paid and unpaid. Some big-name companies like Google, Microsoft, and Ernst & Young among others impose rigorous screening requirements. Smaller to mid-market companies have a more relaxed internship application process.
Overall, internship acceptance rates across types and companies are rather high. Per NACE data, the average offer rate for interns is 56% and the acceptance rate is 77.3%. Almost half of the interns (46%) also receive subsequent conversion offers — an opportunity to join the company as an employee.
That's some good news for marketing interns! Still, you should get too comfortable. As a future marketer, you should be good at promoting any product at your hand, including yourself. You must present a compelling marketing intern cover letter to complement your resume.
In this post, we provide a working marketing cover letter example, followed by several actionable tips to help you craft an equally amazing letter!
Marketing Intern Cover Letter Sample in .docx Format
This sample is for a "mock" marketing internship in an ecommerce company, specializing in beauty products.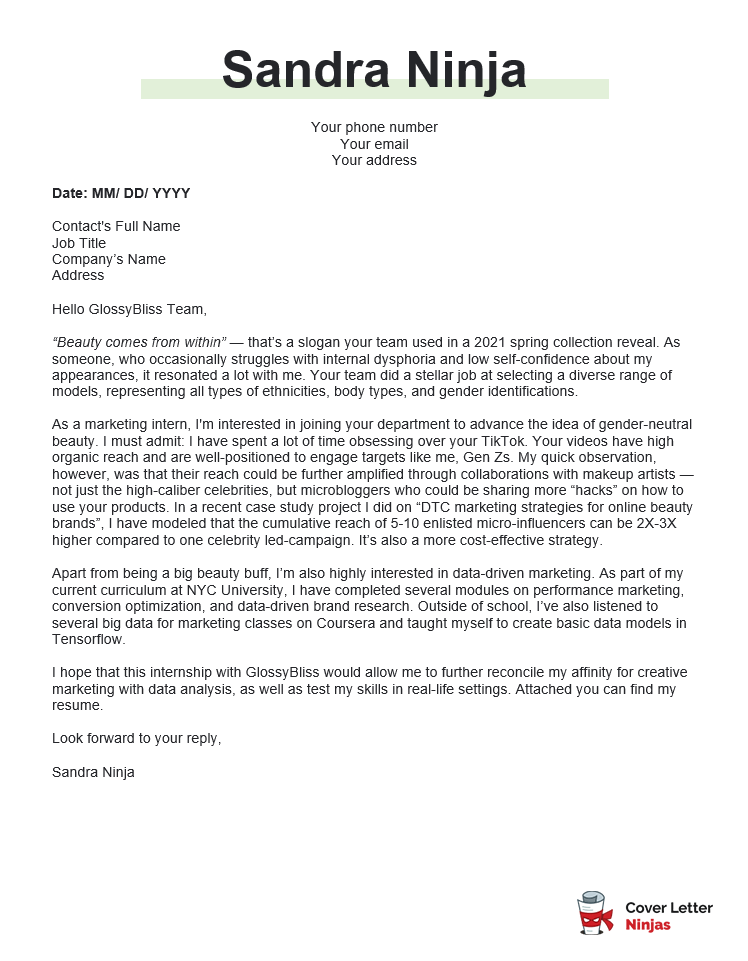 Download example (Word version)
Marketing Intern Cover Letter Example – Text Format
Hello GlossyBliss Team,
"Beauty comes from within" — that's a slogan your team used in a 2021 spring collection reveal. As someone, who occasionally struggles with internal dysphoria and low self-confidence about my appearances, it resonated a lot with me. Your team did a stellar job at selecting a diverse range of models, representing all types of ethnicities, body types, and gender identifications.
As a marketing intern, I'm interested in joining your department to advance the idea of gender-neutral beauty. I must admit: I have spent a lot of time obsessing over your TikTok. Your videos have high organic reach and are well-positioned to engage targets like me, Gen Zs. My quick observation, however, was that their reach could be further amplified through collaborations with makeup artists — not just the high-caliber celebrities, but microbloggers who could be sharing more "hacks" on how to use your products. In a recent case study project I did on "DTC marketing strategies for online beauty brands", I have modeled that the cumulative reach of 5-10 enlisted micro-influencers can be 2X-3X higher compared to one celebrity led-campaign. It's also a more cost-effective strategy.
Apart from being a big beauty buff, I'm also highly interested in data-driven marketing. As part of my current curriculum at NYC University, I have completed several modules on performance marketing, conversion optimization, and data-driven brand research. Outside of school, I've also listened to several big data for marketing classes on Coursera and taught myself to create basic data models in Tensorflow.
I hope that this internship with GlossyBliss would allow me to further reconcile my affinity for creative marketing with data analysis, as well as test my skills in real-life settings. Attached you can find my resume.
Look forward to your reply,
Sandra Ninja
More Cover Letter Examples for Interns!
How to Write a Cover Letter for Marketing Internship
When you sit down to write a cover letter, your mind likely goes blank. Gee, what can I offer to this company? Probably more than you think. Remember: employers are looking for high-potential interns — people who have an interest in their industry and an enthusiasm for learning. You should focus on communicating both of these in your cover letter. Then sprinkle some mentions of your skills. These actionable tips should help you accomplish just that!
Explain How You Can Be Useful
Yes, you are an intern and you expect to be taught stuff. Still, one of the first things every employer tries to understand is how you can be of use to them.
Clearly communicate which tasks you can handle, what skills do you have, and which ones you're looking to develop. Don't make the employer guess whether you are interested more in social media marketing, marketing data analytics, SEO, or event marketing. Give them a sense that you can actually be useful in the office and perhaps even have some ideas or observations (like the author above mentions).
Show Your Personality
The reader (and their team) will spend a lot of time collaborating with you. Understandably, most want to hire an amicable, easy-to-work-with, and nice-to-chat-up person, dealing with whom would feel gratifying.
So try to make yourself sound likable. You can do so by sharing a few bits about your personal background, interests, or general worldview. You can also easily win some extra points by addressing the core company values. This is easy to do. Check the company's About page or google up an interview with their founder/CEO. Take some of the main values they actively promote. Then reference your attitudes towards them in your cover letter.
For example:
"I've recently learned that BI Electrics plans to double its investment in renewable fuels. As an active proponent of sustainable development (and obsessive recycler), I would really learn more about your de-carbonization strategy, and perhaps assist with some carbon calculations too."
Add Hooks To Your Letter
Employers receive a ton of internship cover letters. So most will first skim through it. Your goal is to plant several "hooks" to make the reader stop in their tracks and really read into your application.
The easiest way to do so is by starting each paragraph with a catchy, powerful statement. This can be a highlight of your most marketable skills, your main learning objective, or an accomplishment you are proud of. Remember: in each case, this statement shouldn't just promote you, but rather hint at the value you can bring to the company.
Final Tip: Don't Recite Your Educational Credentials
A cover letter shouldn't sound like a summary of your thesis or another type of research you did. Neither should it recount all the classes you've taken (and liked) so far. You are not applying to an academic program — you are looking for a job. So all the information you provide should clearly speak to how you can be of actual help.