Museums are fascinating places and as varied as the entire anthropological history of mankind and earth. Thus, we have tiny museums dedicated to a single person (Edgar's Closet in honor of the author/poet) all the way up to the Louvre, the Smithsonian, the Museum of Science and Industry, etc.
Museums are overseen by Boards of Curators who employ top personnel to help run all the "back office" operations. Individuals with degrees and in art, history, music, anthropology, archeology, the sciences, and more will be good candidates for job opportunities in museums. What are those exactly? The popular ones include curator, archivist, tour guide, outreach director, and even volunteers.
When you see a new job opening that matches your education, interests, and background, be the first ones to apply. Give your resume a quick refresher. Then focus on writing a cover letter that will set you apart from other candidates. We provide you with tips for that, followed by a cover letter example that can be adapted for different museum jobs.
Review the Position Description Very Carefully
Museum position openings are very specific, and openings will be in a certain artistic department. Be certain that the details of that opening, including required degree(s), background, experience, and specific skills are a fit for what you bring to the table. If not, move on to another opportunity.
ADVICE FROM OUR EXPERT
---
Museums revolve around curating positive guest experiences, so this role will likely require proven customer service and communication skills. Museum operations are often run by volunteers, so in a museum role, you might find yourself within a position of leadership. Highlight any experience that elevates your leadership, customer service, and communication skills in your cover letter.

Claire Webber
Career Consultant, CPCC, CPRW
Look for Keywords/Phrases that Relate to the Position Requirements
These may relate to both hard and soft skills. Make note of those keywords and find ways to include them in your cover letter. Many employers use rely on applicant tracking software to pre-process incoming applications. If your submission (resume + cover letter) has none, it may get auto-discarded.
Focus on a Few Major Accomplishments
These few accomplishments should relate directly to your previous and/or current work or position, plus also be applicable to the new role you are after. (Remember those keywords!).
Even if you only have an internship or a solid volunteer experience, make a list of your successes, of any awards or recognitions you have received, or of any initiatives you may have proposed and implemented that improved an operation in any way. Then draw a parallel between your competencies and the position requirements.
Avoid the Trite Language That is Common to Most Cover Letters
Here are a couple of trite examples to avoid:
"With great interest, I noted your recent posting for an archivist. Please consider me an applicant for this position."
"I am available for an interview at your convenience and may be contacted as indicated on my resume. I look forward to hearing from you."
Such cliches are painfully dated and don't add value to the conversation. Skip them in favor of listing another qualification.
Match Your Style and Tone to the Organization
Many museum websites will give you cues about the style and tone you should use in your cover letter. Some are quite formal and sophisticated/scholarly. Others, such as a children's museum, will be far less formal, because of their target audiences. Use a tone and style that matches the employers.
Less is More
Your cover letter is not a mini-resume. Yet it must show a few actual accomplishments that are measurable. A museum docent who has increased visitor numbers by 30% is one such accomplishment. If you cannot produce these, then refer to awards and recognitions you have received.
Cover Letter Sample for a Job in Museum – .docx Format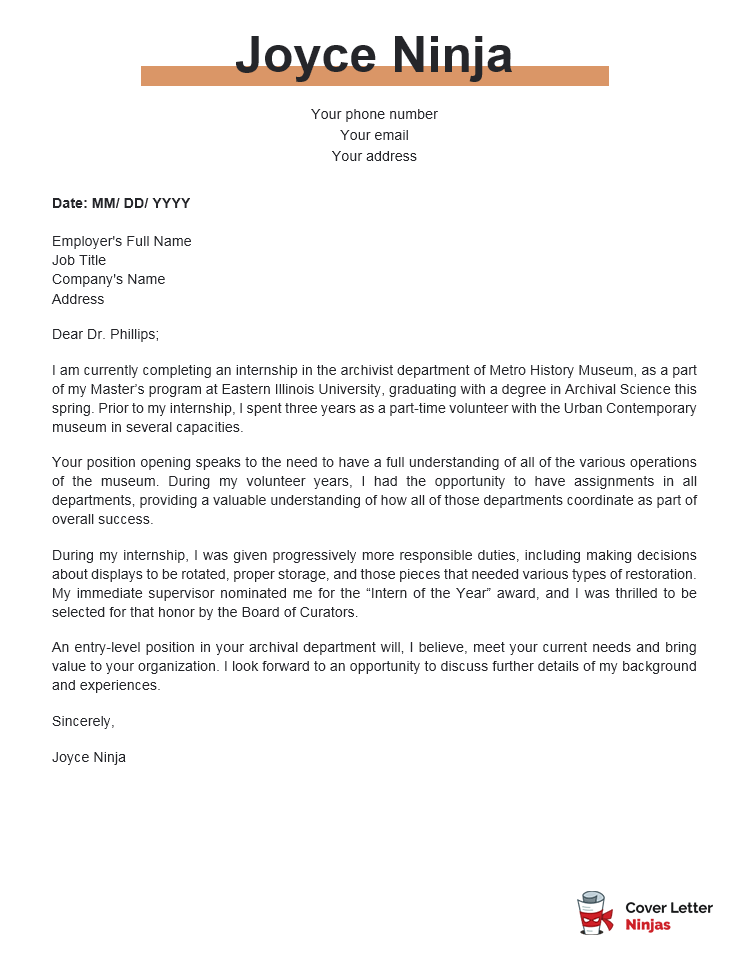 Download example (Word version)
Cover Letter Example for a Museum Job – Text Format
Dear Dr. Phillips;
I am currently completing an internship in the archivist department of Metro History Museum, as a part of my Master's program at Eastern Illinois University, graduating with a degree in Archival Science this spring. Prior to my internship, I spent three years as a part-time volunteer with the Urban Contemporary museum in several capacities.
Your position opening speaks to the need to have a full understanding of all of the various operations of the museum. During my volunteer years, I had the opportunity to have assignments in all departments, providing a valuable understanding of how all of those departments coordinate as part of overall success.
During my internship, I was given progressively more responsible duties, including making decisions about displays to be rotated, proper storage, and those pieces that needed various types of restoration. My immediate supervisor nominated me for the "Intern of the Year" award, and I was thrilled to be selected for that honor by the Board of Curators.
An entry-level position in your archival department will, I believe, meet your current needs and bring value to your organization. I look forward to an opportunity to discuss further details of my background and experiences.
Sincerely,
Joyce Ninja
Final Tip: Write The Ideal Letter For Your Experience
Consider your level of experience as you write your letter. If you have years of experience working in museums, you may let your work speak for itself. However, if you lack that background, you may choose to use your letter to focus on your passion for museums, as well as any research or internships you have completed.