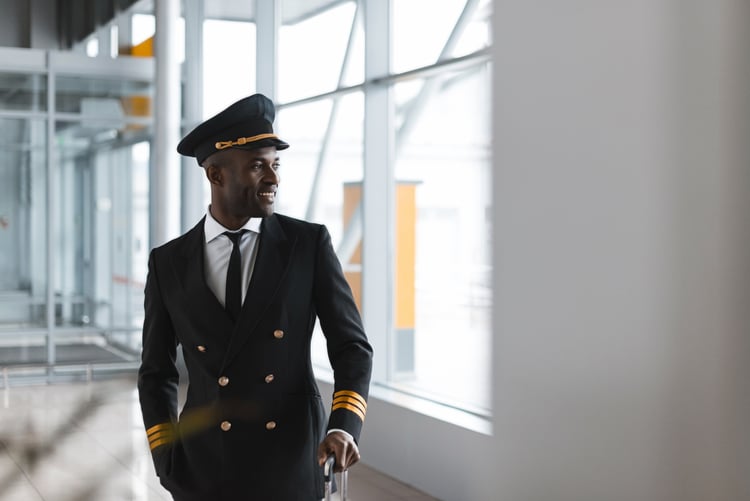 Pilots are responsible for safely transporting people and cargo to destinations all over the world. You must pass rigorous testing and undergo extensive training to become a pilot. This isn't a "hobby" job to be taken lightly. Additionally, pilots are frequently away from home and often deal with high-stress situations. For all of this, you deserve an excellent job with great pay and benefits!
The travel sector has been progressively rebounding from the pandemic and tourism is back on track. This means airlines are hiring once again. According to the latest reports, over 600 pilots were hired each month during August and September 2021. What's more, hiring bonuses are back too. Regional airlines are said to have signing bonuses of $15,000 or more with major players like American Airlines shelling out over $150,000 in retention bonuses to attract new pilots.
Now if you want to land (pun intended) a new job with a lavish bonus package, you'll have to submit a compelling pilot cover letter. We've got you covered here with a working sample and bonus writing tips.
Pilot Cover Letter Sample in .docx Format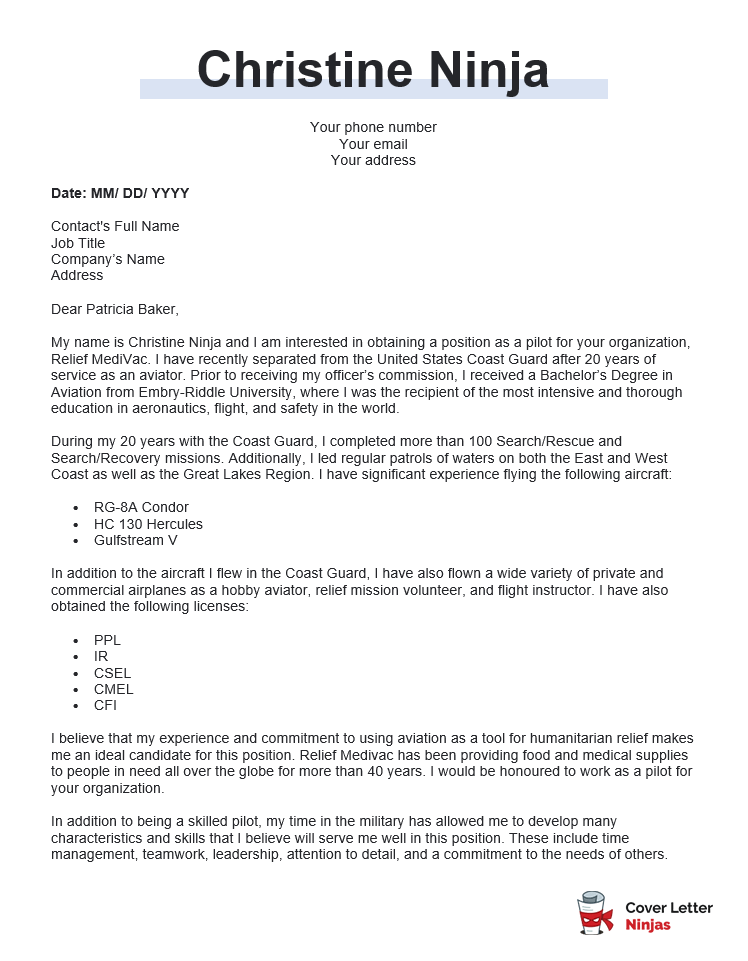 Download example (Word version)
Pilot Cover Letter Example – Text Format
Here is a cover letter from a military pilot who is interested in obtaining work as a civilian. They are applying to work at a not-for-profit relief agency.
Dear Patricia Baker,
My name is Christine Ninja and I am interested in obtaining a position as a pilot for your organization, Relief MediVac. I have recently separated from the United States Coast Guard after 20 years of service as an aviator. Prior to receiving my officer's commission, I received a Bachelor's Degree in Aviation from Embry-Riddle University, where I was the recipient of the most intensive and thorough education in aeronautics, flight, and safety in the world.
During my 20 years with the Coast Guard, I completed more than 100 Search/Rescue and Search/Recovery missions. Additionally, I led regular patrols of waters on both the East and West Coast as well as the Great Lakes Region. I have significant experience flying the following aircraft:
RG-8A Condor
HC 130 Hercules
Gulfstream V
In addition to the aircraft I flew in the Coast Guard, I have also flown a wide variety of private and commercial airplanes as a hobby aviator, relief mission volunteer, and flight instructor. I have also obtained the following licenses:
I believe that my experience and commitment to using aviation as a tool for humanitarian relief makes me an ideal candidate for this position. Relief Medivac has been providing food and medical supplies to people in need all over the globe for more than 40 years. I would be honored to work as a pilot for your organization.
In addition to being a skilled pilot, my time in the military has allowed me to develop many characteristics and skills that I believe will serve me well in this position. These include time management, teamwork, leadership, attention to detail, and a commitment to the needs of others.
As requested, I have included my resume and copies of all relevant licenses and other documents. I can attest to the fact that if hired, I am able to begin flying for your organization right away.
My understanding is that you will be in Atlanta for the Aviation Rescue Organization Consortium later this month. I will be attending as well. Could we arrange a meeting for lunch and an interview then? I look forward to meeting with you.
Sincerely,
Capt. Christine Ninja USCG (Retired)
How to Write a Pilot Cover Letter
To write a convincing pilot cover letter you need to carefully balance the showoff of your skills and competencies against your motivation to join a particular employer. Here are some excellent tips for writing your cover letter and otherwise impressing the hiring manager.
Use Aviation-Relevant Keywords
Always remember that hiring managers do not always read cover letters from beginning to end. Instead, they tend to scan for relevant keywords. When hiring a pilot, they will be searching for keywords that are most relevant to the skills, equipment, and experience you need to fly for them. Look at the job listing. This will almost always have the keywords you need. Identify them, then add those to your cover letter.
Show That You Have the Relevant Licenses and Certifications
Are you ready to start your new job, and able to fly on your first day? If so, provide evidence of that in your cover letter. List all relevant licenses and certifications you hold as a pilot. Sure, these are already listed on your resume. But it's always worth repeating this information in your letter too to prevent any wrong assumptions.
ADVICE FROM OUR EXPERT
---
Your ability to follow directions and comply with regulations are skills a reader will want to see in your cover letter. It is beneficial to call these qualities out specifically and share an example of when you followed directions or complied with regulations in a challenging situation.

Debi Douma-Herren
Senior Certified HR Professional & Career Coach
Detail Your Most Relevant Experience
Many pilots have a wide range of experience. Some have flown in the military, others are hobby aviators who want to switch to commercial work. Whether you have flown commercial jets or small private planes, it is your most relevant experience that matters. This is what you should include in your cover letter.
For example, if you want to work as a cargo pilot for a major freight organization, focus on an experience that is as close to that as possible. Then, add your other flying experience to your resume.
Indicate Your Readiness to Start
It's helpful to include a note or two about your ability to start. This will give the hiring manager a heads up about your availability. Of course, the sooner the better in most cases. But it's best to be transparent and upfront about your need for extra time, especially if the job involves relocation.
Include Other Relevant Skills
A good pilot will have many skills, not just those that are related to flying an airplane or helicopter. You should have the ability to work within a team, communicate effectively, and manage your time. Don't forget to add these soft skills to your cover letter.
Final Tip: Get Ready for the Next Step
Encourage the reader to call you back for an interview. Instead of asking them to contact you, find a way to suggest a time or place for a meeting. This is a bit of a psychological trick that makes moving to the next step seem almost inevitable.