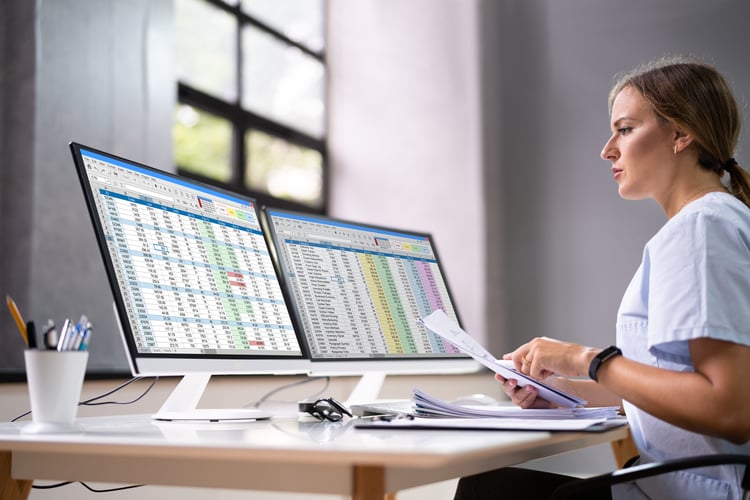 As healthcare delivery and record-keeping become more digitized, and the demand for accuracy and privacy increase, medical coders are enjoying a spike in employment. The demand for medical coders is projected to increase by 9% within this decade, with some new 34,300 openings becoming available. 
Medical coding is also a potentially lucrative career with opportunities for career progression. You can advance to becoming a Coding Auditor or Educator. Then transition to senior positions such as HIM Manager or Compliance Auditor. Additionally, many medical coders have the opportunity to work from home and set their own hours.
Still, it isn't enough to just have the right skills to land this job. You have to present yourself in a way that impresses hiring managers. This medical coder cover letter example and writing tips should help with that.
Medical Coder Cover Letter Example in Word
Here is a sample of a medical coder cover letter you can use as a guide or for inspiration.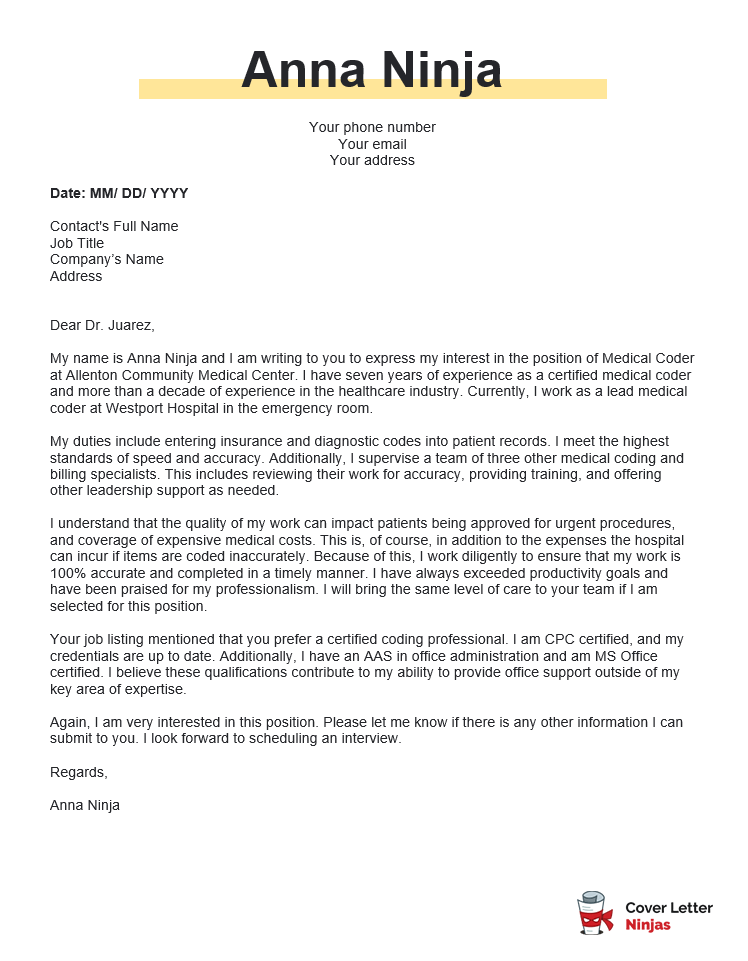 Medical Coder Cover Letter Sample – Text Format
Dear Dr. Juarez,
My name is Anna Ninja and I am writing to you to express my interest in the position of Medical Coder at Allenton Community Medical Center. I have seven years of experience as a certified medical coder and more than a decade of experience in the healthcare industry. Currently, I work as a lead medical coder at Westport Hospital in the emergency room.
My duties include entering insurance and diagnostic codes into patient records. I meet the highest standards of speed and accuracy. Additionally, I supervise a team of three other medical coding and billing specialists. This includes reviewing their work for accuracy, providing training, and offering other leadership support as needed.
I understand that the quality of my work can impact patients being approved for urgent procedures, and coverage of expensive medical costs. This is, of course, in addition to the expenses the hospital can incur if items are coded inaccurately. Because of this, I work diligently to ensure that my work is 100% accurate and completed in a timely manner. I have always exceeded productivity goals and have been praised for my professionalism. I will bring the same level of care to your team if I am selected for this position.
Your job listing mentioned that you prefer a certified coding professional. I am CPC certified, and my credentials are up to date. Additionally, I have an AAS in office administration and am MS Office certified. I believe these qualifications contribute to my ability to provide office support outside of my key area of expertise.
Again, I am very interested in this position. Please let me know if there is any other information I can submit to you. I look forward to scheduling an interview.
Regards,
Anna Ninja
More Cover Letter Examples to Check
Cover Letter Writing Tips for Medical Coders
Before you start writing your own cover letter, take a look at these tips. They should help you steer your narrative in the right direction and cover all the essentials.
Talk About What Isn't in Your Resume
Your cover letter is your opportunity to express your interest and enthusiasm. Use it to discuss your interest in the field, dedication to doing quality work, and your commitment to ethics. Let your resume stand as a timeline of your work history and education. Both documents are important, but neither should repeat the other.
Show The Side of Your Personality They Want to See
When you write your cover letter, you should absolutely use it to showcase your personality. However, that doesn't mean you should let it all hang out. Instead, focus on the parts of your character that will serve you well in your position as a medical coder, and will help you to fit into the company culture. Also, address some important soft skills such as "attention to detail", "teamwork", "project management", "scheduling", "delegation", and so on.
Cover The Job Requirements
Does the job listing mention any absolute requirements or qualifications? If so, be sure to mention those in your cover letter. The last thing you want is to have your application discarded simply because it doesn't contain the right keywords. Remember that the hiring manager is going to skim your cover letter in search of certain words or phrases that indicate you are qualified.
Don't Mention Your Shortcomings
What do you do if you don't perfectly match every qualification for the job? You deal with that in the interview. Meanwhile, use your cover letter to focus on the relevant skills and experience you do have. Whatever you do, don't bring up a shortcoming and apologize for it.
Treat an Email Like a Cover Letter
Have you been instructed to email your resume? In that case, treat the email body as your cover letter. Include a relevant subject line. Then, write a short but descriptive cover letter in the email. Essentially, it will be a slighter shorter version of a cover letter with the same high standards.
Final Tip: Proofread Like a Ninja
A medical coder must have excellent written communication skills. They must also have an eye for detail and accuracy. That's not something you will demonstrate in a cover letter that's full of spelling and grammar errors. Take the time to check and double-check your letter for any mistakes. There are plenty of free and paid tools available for this purpose. You can also ask a friend or family member to read your cover letter and offer suggestions.