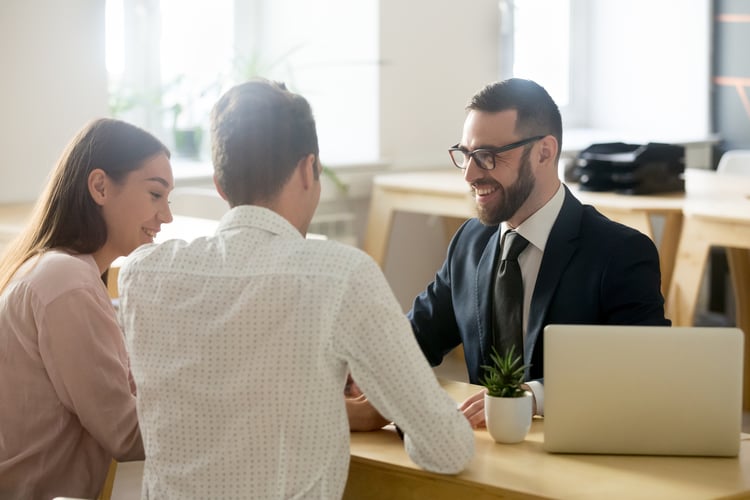 Buying a home is a dream many people have. Mortgage loan processors help achieve it. On one hand, this is a largely administrative job, requiring meticulous attention to details and strong analytical skills. After all, you have to follow a number of compliance policies and standard operating procedures to a dot. On the other hand, you will be also interacting with the customers a lot. So having strong interpersonal skills is a must too.
All of the above should be communicated in your job application materials. This post provides you with a working cover letter example for a mortgage loan processor, followed by extra tips to nail your application.
Cover Letter Sample for Mortgage Loan Processor – .docx Format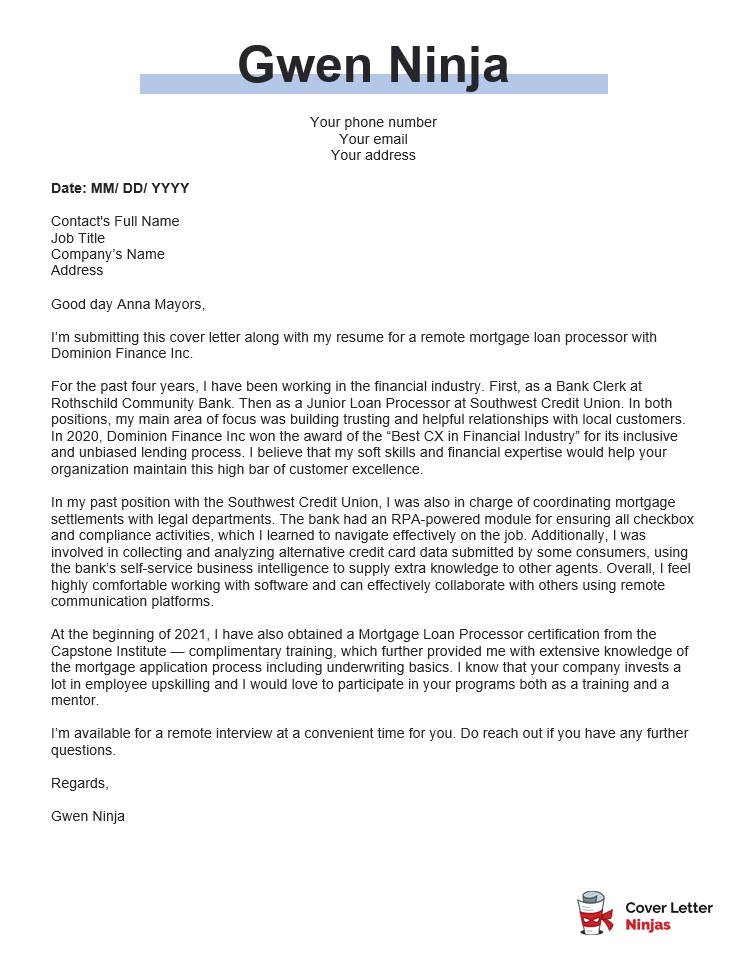 Download example (Word version)
Cover Letter Example for Mortgage Loan Processor – Text Format
Good day Anna Mayors,
I'm submitting this cover letter along with my resume for a remote mortgage loan processor with Dominion Finance Inc.
For the past four years, I have been working in the financial industry. First, as a Bank Clerk at Rothschild Community Bank. Then as a Junior Loan Processor at Southwest Credit Union. In both positions, my main area of focus was building trusting and helpful relationships with local customers. In 2020, Dominion Finance Inc won the award of the "Best CX in Financial Industry" for its inclusive and unbiased lending process. I believe that my soft skills and financial expertise would help your organization maintain this high bar of customer excellence.
In my past position with the Southwest Credit Union, I was also in charge of coordinating mortgage settlements with legal departments. The bank had an RPA-powered module for ensuring all checkbox and compliance activities, which I learned to navigate effectively on the job. Additionally, I was involved in collecting and analyzing alternative credit card data submitted by some consumers, using the bank's self-service business intelligence to supply extra knowledge to other agents. Overall, I feel highly comfortable working with software and can effectively collaborate with others using remote communication platforms.
At the beginning of 2021, I have also obtained a Mortgage Loan Processor certification from the Capstone Institute — complimentary training, which further provided me with extensive knowledge of the mortgage application process including underwriting basics. I know that your company invests a lot in employee upskilling and I would love to participate in your programs both as a training and a mentor.
I'm available for a remote interview at a convenient time for you. Do reach out if you have any further questions.
Regards,
Gwen Ninja
Other Relevant Cover Letter Examples to Check
How to Write a Cover Letter For Mortgage Loan Processor Jobs
As a mortgage loan processor, you need to showcase both your hard and soft skills in your letter. The best way to do it is by contextualizing each through different examples. The tips below should help you organize your working notes into a coherent and compelling cover letter.
Curate Your Skills from a Resume
Before you begin writing your cover letter, take another look at your resume. What are your main skills and accomplishments? Pick out 3-4 "talking points". Then go to the job posting and verify that those match mentions in the "Candidate Requirements" section.
Highlight the overlaps in your letter. Doing so will position you as a top contender for the job.
Match Your Tone to the Company
As a mortgage loan processor, you'd be voicing out the decisions on behalf of the organization you work for. Essentially, you'd be representing their brand. Show that you are well capable of this by using the tone of voice the company employs in your cover letter.
How do you figure it out? Re-check the company website and pay attention to how they structure their marketing communication. Do they err more on the professional, rather than conversational side? Do they use inclusive, gender-neutral language? How do they name their products or services? Try to copy the tone and wording they employ in your letter to show that you understand the pillars of their brand experience.
Avoid Drawing Attention to Missing Experiences
If you are looking for a step up in your career or transitioning from an adjacent position, you may be tempted to apologize for your lack of experience. But such direct notes starting with "Unfortunately, I don't have all the qualifications you require…" can work against you.
Many employers today are hiring for attitude, rather than aptitude alone. They are also open to providing on-the-job training during the onboarding period. Therefore, you should focus more on highlighting your transferable skills and ability to learn, rather than point towards the weaknesses.
Try framing your missing experience this way:
"In my past position as a bank clerk, I spent a lot of time on building relationships with customers and proactively educating them on different credit products. That is how I have developed a lot of knowledge about the mortgage industry and learned the basic underwriting policies."
Final Tip: Highlight Your Digital Literary
The mortgage industry underwent a series of major transformations over the past several years. Today, many banks employ intelligent decision engines and advanced analytics to make lending decisions. Show that you are comfortable working with such software or eager to learn the tooling!